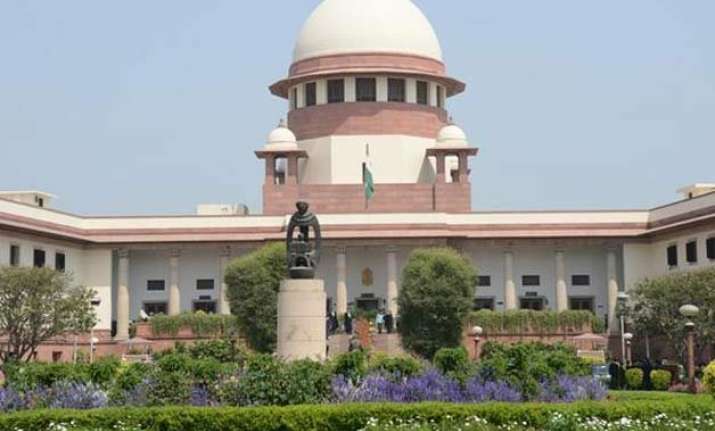 New Delhi: The Supreme Court today issued a notice to the central government on a plea challenging the imposition of President's Rule in Arunachal Pradesh on January 26.
Terming the matter of imposing Central rule in the state as "too serious a matter", the Supreme Court also sought the report of Governor Jyoti Prasad Rajkhowa recommending central rule in the state. The apex court constitution bench comprising Justice Jagdish Singh Khehar, Justice Dipak Misra, Justice Madan B. Lokur, Justice Pinaki Chandra Ghosh and Justice N.V. Ramana issued the notice giving the Centre time till January 29 to file its response and directed the hearing of the matter on Monday.
When Additional Solicitor General Satpal Jain, appearing for the Governor, sought to maintain secrecy of the report and the recommendation for the President's rule, the bench said, "He will only mention the date of report recommending President's rule to opposite parties during the course of the 
day."
However, the bench for its own perusal sought in a sealed cover the report and recommendation on imposition of the President's rule. "Unless we get the grounds for recommending the President's rule, we cannot proceed. If grounds are not same in the proclamation then it is totally a different ball game," the bench noted.
The court also gave liberty to petitioner Congress chief whip in Arunachal Pradesh Rajesh Tacho to amend the plea to include challenge to the presidential proclamation. The bench was also of the view that no interim order can be obtained unless the parties see the grounds for proclamation for President's rule.
The Congress on Monday had moved the Supreme Court challenging the cabinet decision on Sunday to impose President's Rule in Arunachal Pradesh based on the recommendation of state Governor Jyoti Prasad Rajkhowa.
The petition moved by Tacho has assailed the report of Governor Rajkhowa for imposition of President's Rule and its acceptance by the union Cabinet and subsequent recommendation to the President.
The Supreme Court had earlier agreed to a fresh plea by Congress' counsels Fali S Nariman and Kapil Sibal to hear the matter on an urgent basis and referred the case to a larger constitution bench which is already hearting other petitions on the matter.
Congress has 47 seats in the 60-member Arunachal assembly. It suffered a setback when 21 of its MLAs in the state assembly rebelled. Eleven BJP MLAs backed the rebels in the bid to upstage the Nabam Tuki government. Later, 14 rebel Congress MLAs were disqualified.
The Governor then called assembly session on December 16 where deputy speaker revoked the disqualification of 14 rebel Congress MLAs and removed Rebia from the post of Speaker. This sitting was held in a community hall in Itanagar.
Various decisions of the governor and the deputy speaker were challenged by Rebia in Gauhati high court which passed an interim order keeping in abeyance these decisions till February 1.
(With IANS inputs)