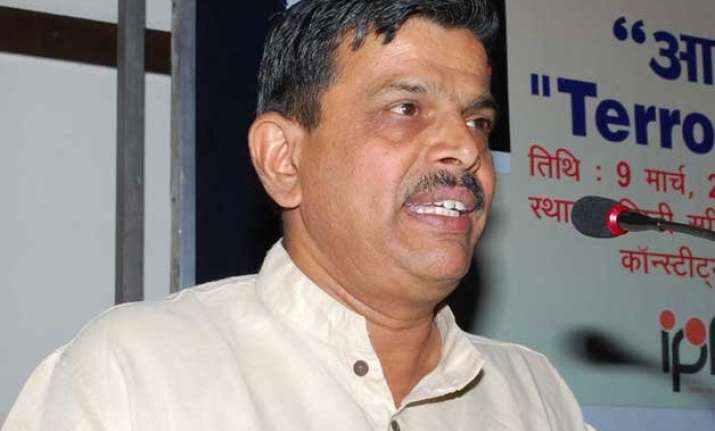 New Delhi: In an attempt to alleviate the impression that it was at odds with the BJP-led Central government, the Rashtriya Swayamsevak Sangh (RSS) yesterday extended its support to the Narendra Modi government over contentious issues including Land Bill and BJP-PDP coalition in Jammu and Kashmir.
The RSS advised its frontal organisations like the Bharatiya Kisan Sangh, Bharatiya Mazdoor Sangh and Swadeshi Jagran Manch to engage with the government and avoid a confrontational attitude.
RSS Sah Sarkaryavaha (additional general secretary), Dattatreya Hosbale, at the beginning of three-day day Akhil Bharatiya Pratinidhi Sabha (ABPS) in Nagpur, yesterday, said that Sangh did not think that the bill was 'anti-farmer'.
"I don't think the bill is anti-farmer because the government has brought in amendments which are in favour of farmers. But the government should work towards proper implementation of those farmer friendly amendments at ground level," he said.
On Article 370 and BJP-PDP alliance in Jammu and Kashmir he said, "...not willing to compromise on core issues like Article 370. There is absolutely no change in our stand on J&K. Entire nation is pained over the recent happenings in J&K and we share that feeling. Even the Prime Minister and the BJP have aired their opinion on the issue clearly. But give both the parties some time."
On the first day of the annual meet, nearly 1,400 delegates from parent and affiliate bodies of the RSS were present. BJP president Amit Shah was also present.
Hosbale, however, reiterated that there was no minorities in India where all people are 'culturally, nationally and DNA-wise Hindus.
"Whom do you call minorities? We don't consider anybody to be a minority. There should be no minority concept in the country because there is no minority. Mohan Bhagwatji has said it 20 times that all those born in India are Hindus. Whether they accept it or not, they are culturally, nationally and DNA-wise the same," Hosabale replied when questioned on whether RSS would open its door for the religious minorities and women.
"In Sangh Shakhas, the so called minorities that you say are already there...they are volunteers," Hosabale added.
Women, he said, were there in Rashtra Sevika Samitis and actively involved in the activities of RSS.
"They (women) are indeed not there in the Shakhas, but are everywhere else. They are involved in the Seva activities and are active, even full time volunteers. Several of them are even in the Pratinidhi Sabha," he said.