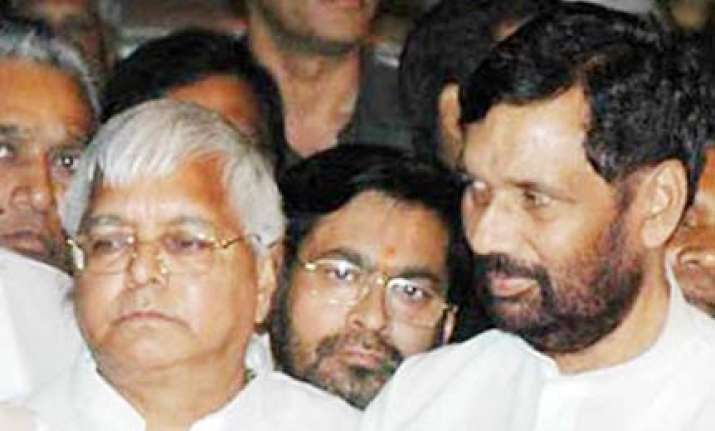 Patna, Oct 11: The RJD-LJP combine today offered a number of sops, including implementation of recommendations of the Rangnath Mishra Commission in their joint manifesto for the October-November assembly elections in Bihar.
The manifesto, released by RJD chief Lalu Prasad and his LJP counterpart Ramvilas Paswan at a press meet, said sincere efforts will be made to implement the recommendations of the Rangnath Mishra Commission with 15 per cent reservation for minorities in teaching institutions, Public Service Commission, Judicial service Commission and state police service, in a time-bound manner.
In the event of win, special attention will be paid to uplift minorities and post candidates who are fluent in Urdu at police stations.
The combine promised to introduce Urdu in the examinations to be conducted by the State Public Service Commission.
Prasad said a fixed pay scale will be worked out for teachers working at minorities institutions.
"We will also ensure appointments of one from the minorities in all the boards, commissions, corporations and committees. Besides lawyers from the community will be appointed as Additional Prosecutors, Public Prosecutors, Government Prosecutors and Additional Government Prosecutors in courts," the former union minister said.
He said administrative units will be further toned up so that development benefits directly reach dalits, Backwards, minorities and other oppressed social groups.
Apart from special anti-riot squads, steps for opening 'Urdu Kanya High schools' will also be taken, they added. PTI