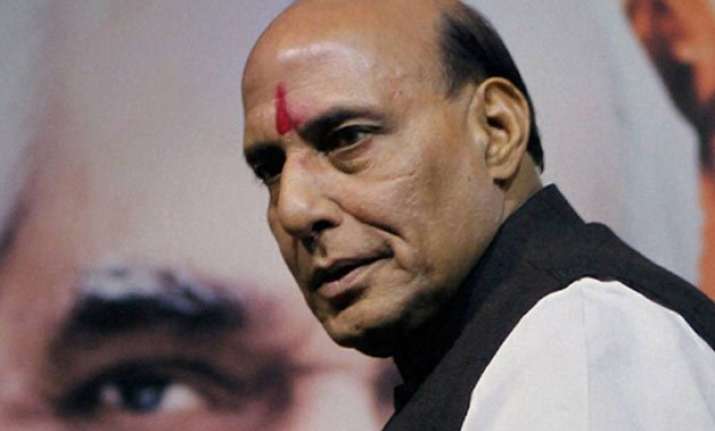 Kolkata: Home Minister Rajnath Singh today launched a scathing attack on the Trinamool Congress (TMC)-led West Bengal government in the state over the recent incident of mob violence in Malda, flaying the government for failing to take appropriate action against the culprits.
Addressing a public rally in Ashok Nagar in Barasat, the Union minister said that it was the duty of the chief minister Mamata Banerjee to find out who was responsible for the Malda violence.
Angry crowds had burnt down the Kaliachak police station and set several vehicles on fire. "The Trinamool Congress government and West Bengal chief minister should make it clear who is responsible for the incident," Rajnath Singh said.
"I assure the people that whoever is responsible for the Malda violence will be exposed. The West Bengal government cannot deny responsibility for Malda incident," he added.
The Home minister said that the Malda violence was a clear indication of the deteriorating law and order in the state and also cast aspersions on the intent of the government to bring the guilty to book. "Malda violence was not a small incident. Who plotted it? Was the administration not aware of a procession so huge? Were senior police officials not deputed for the procession?" he said.
"They (the mob) had the courage to burn down a police station and even attempt to kidnap a BSF official. Is there an attempt to save those who attacked a BSF official?" the Home minister added.
In a dig at West Bengal chief minister for the declining law and order situation, Rajnath said, "Aaj West Bengal mein koi surakshit nahi, na maa, na maati na manush. Yahan tak ki police wale bhi surakshit nahi (No one is safe in Bengal, not even the state police)," Rajnath Singh said.
During his address, Rajnath also touched upon rising Bangladeshi infiltration into the state and smuggling. "It is the BSF which has given the most befitting response to infiltrators from neighbouring countries. We are doing our best to secure the Bangladesh border entirely. The entire India-Bangladesh border will be fenced," he said.
Speaking on the declassification of Netaji files, Rajnath said, "Let me assure you that we are waiting for the mystery to unravel. PM Modi has promised to declassify all the files on January 23," he said.