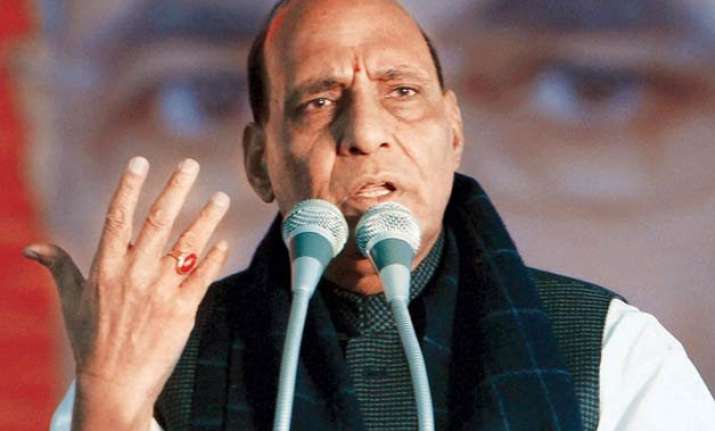 Pratapgarh (Rajasthan): Speaking on the lines of Rashtriya Swayamsevak Sangh's (RSS) agenda to push for Hindu icons, the Union Home Minister Rajnath Singh yesterday said that Rajput king Maharana Pratap was a greater hero than Mughal emperor Akbar.
"I have no objections to historians writing Akbar The Great. But why not Pratap The Great? The valour and sacrifice that the Maharana demonstrated in the Mewar region was equally impressive and he should be accorded more respect and dignity," Rajnath said while speaking at a function.
Rajnath was in the city to unveil a statue of Maharana Pratap at the Collectorate campus on Sunday.
Rajnath said that Maharana was a true national hero who valiantly fought to defend his motherland. He not only inspired the Indians but his name also became a source of inspiration for people living in other countries.
"Maharana Pratap became an icon for freedom fighters because his name evoked a strong feeling of love and sacrifice for motherland. Even the Vietnamese people were inspired by him and it helped them in defeating a powerful country like the United States during U.S.-Vietnam war," Rajnath said.
Showering praise on Maharana Pratap, the Home Minister said that 'our text books have not been able to fully recognise his contribution and significance in India's history'.
"If Akbar can be called 'Akbar the Great' for his contribution in the history then why can't Maharana Pratap be recognised as Maharana Pratap the Great," he added.
Referring to VS Naipaul's book 'India: A Wounded Civilisation' the HM said, "Naipaul has observed that he found India the only country in the world where history written by foreign historians is taught in textbooks."
He further said that there are several accounts in Indian history that should be modified and corrected.
Welcoming Rajasthan government's decision to include a chapter on national heroes like Maharana Pratap in school text books, Singh said that he would speak to the Union Human Resource Development minister to consider the inclusion of chapters on these icons in CBSE text books as well.