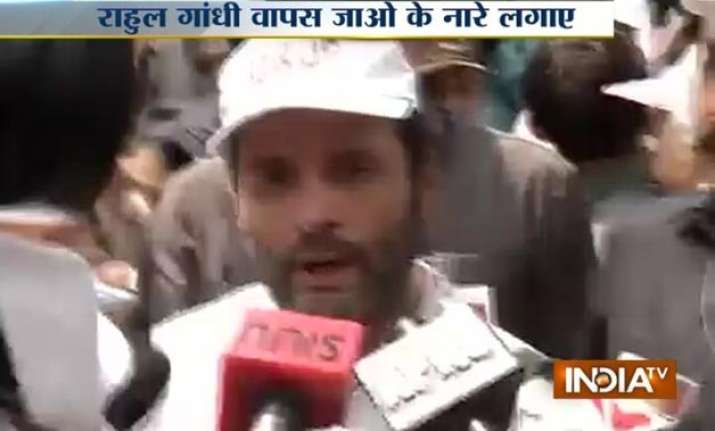 New Delhi: Congress Vice-president Rahul Gandhi today visited Jantar Mantar to  support ex-servicemen protesting for their demand to implement one rank one pension (OROP) and was booed down for politicising the issue.
The protesters raised the slogans of "go back Rahul".
One of the protesting ex-servicemen's wife turned furious as Gandhi arrived at the demonstration venue and accused him of  politicising the issue.
"We have been protesting for 62 days, why didn't he come earlier? Where was he all this while? We cannot allow our protest to get politicised or get highjacked by politicians," she said.
An unperturbed Rahul, however, asserted that Narendra Modi must announce a date for implementing the 'One Rank, One Pension' scheme.
"The PM should give a date as to when he can bring in OROP. All this protest will end then," Rahul Gandhi said.
"People from armed forces and jawans spend their lives on the border, they are protesting now and they shouldn't be removed," he said after Police forcibly removed many of the protesters from the site in view of preparations of Independence Day celebrations tomorrow.
"Jo technicalities ki baat hai wo PM ko kehne se pehle sochni chahiye thi, ab humein date chaahiye, in logon ko date chaahiye (The PM should have thought of technicalities before making announcing it, we need a date now, they need a date)," he said on the government's logic that there are many technicalities on implementation of OROP that need to be sorted out.
Earlier in the day, police and civic employees swooped on the protesting retired soldiers at the Jantar Mantar protest site, apparently in a crackdown linked to Saturday's Independence Day celebrations.
The forceful eviction led to a scuffle between retired army personnel and the police officials.
Deputy Commissioner of Police Vijay Singh told IANS that all protesters were being evicted from the area for security reasons ahead of Saturday as part of a drive by the New Delhi Municipal Council.
As the ex-servicemen refused to move, saying they had the permission to stage their sit-in, some police personnel brought down the tent and tried to take away a portable generator.
"We have the permission to hold the protest and have been protesting peacefully. This is an attempt to get rid of us as they don't have an answer to our demands," said Anil Kaul, a former colonel and spokesman for the United Front of Ex-Servicemen.
As criticism of the forcible eviction mounted, the authorities did a quick U-turn and allowed the ex-servicemen to reclaim the site.
"We got a verbal go ahead from the home ministry and Delhi Police to carry on with our protest," Kaul later told IANS.
"We did not want to move. Some people were injured in the scuffle, but there were minor injuries," he added.
Delhi Chief Minister Arvind Kejriwal also criticized their eviction and urged Prime Minister Narendra Modi to accept on Independence Day Saturday their demand for OROP.
"Ex-servicemen being forcibly thrown out of Jantar Mantar? Bizarre. They protected us till yesterday. Now they are a security threat for Independence Day?" the Aam Aadmi Party leader asked.
"Within a year, the NDA has started behaving the way UPA behaved in its second term. This is how UPA-II would crush movements," he said.
A section of former soldiers had been on a relay hunger strike on the issue of at the Jantar Mantar protest site here since June 15.
"I urge the PM to announce (the) acceptance of the demand of OROP of our ex-servicemen from Red Fort tomorrow," Kejriwal said.
Ex-servicemen want that pension payable to each rank should be the same irrespective of when they retire.
The OROP, if implemented, will benefit 25 lakh ex-servicemen.