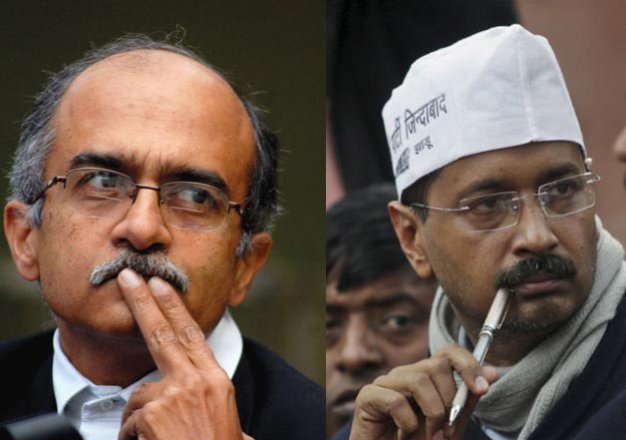 New Delhi:  Expelled AAP leader Prashant Bhushan on Friday lashed out at Arvind Kejriwal, calling him "shameless" and "hypocrite", after the Delhi chief minister said he would be happy if the activist-lawyer, along with Yogendra Yadav, return to the party fold.
In a tweet, Bhushan said that "after abusing" and "orchestrating" a physical attack by his MLAs in the NC meeting, Kejriwal wants them "back!, Hypocrite Shameless!"
Bhushan, one of the founder leaders of AAP, rebelled against the party leadership, raising questions over an array of issues in the organisation and questioning Kejriwal's leadership. This included giving tickets to controversial figures.
Bhushan and Yadav had also cautioned the party over giving ticket to arrested law minister Jitendra Singh Tomar over the allegations of fake degree.
They had also alleged of orchestrating physical assault in the controversial National Council meeting on March 28. The duo was later expelled from the party in April this year for "anti-party" activities. Later, they formed the 'Swaraj Abhiyan.'
In an interview to a news channel Kejriwal had said he would be happy if the duo return to the party.
"Agar aisa hua to bahut achcha hoga (If it happens, it will be very good). Their return will be good for the party," the AAP chief said, denying allegations that his dictatorial attitude prevents their return.
Taking a dig at Kejriwal over Tomar, the Swaraj Abhiyan leader said Kejriwal was lying.
"After HC issued notice on Tomar's fake degrees on Feb 4, and both Universities had declared them fake, Kejriwal says he didn't know! Liar!" Bhushan tweeted.