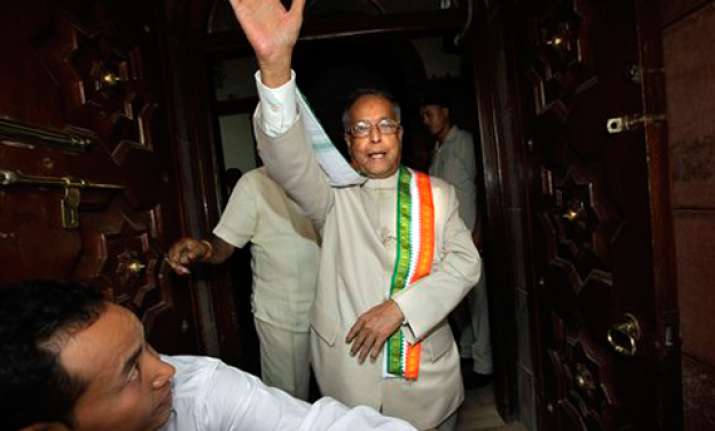 New Delhi, June 28: A quintessential Congressman, Pranab Mukherjee embarked on a new journey dropping off his political affiliations as he filed the nomination for the Presidential election today capping his 45-year long inning in active politics.
The 77-year-old leader from West Bengal, billed as the chief troubleshooter of the UPA for last eight years, was an expert in matters of Constitution and governance and a stickler for rules in Parliament.
Ever seen as the perennial 'No 2' in Government, he had become a Rajya Sabha member for the first time in 1969.  
He was for a long time member of the Upper House before his first direct election to Lok Sabha in 2004 from Jangipur in West Bengal. He repeated his victory in the 2009 elections but had expressed a desire not to contest elections again in view of his advancing age.
Mukherjee's nomination as a candidate for President's election sparing him from the government has come after a huge dilemma as he was trusted as a deft manager of the government that has often moved from crisis to crisis in both the versions.
Minutes after Mukherjee filed his nomination as UPA's Presidential nominee, Law Minister Salman Khurshid said, "Pranab ji has been a pillar in the party and the government.  His absence will always be felt by the party but the country comes before the party and Mukherjee is going to serve the country as President".
Mukherjee may have missed becoming the Prime Minister on a couple of occasions but still he was the man to whom the government looked to during times of crisis.  
Immediately after Mukherjee resigned from the Finance Minister portfolio on June 26, Prime Minister Manmohan Singh wrote a letter to him conveying his deep sense of gratitude for his invaluable contribution to the government over the last eight years and said he would be "deeply missed".
His profile in the Lok Sabha's website says Mukherjee "was considered top ranking Minister and presided over the Cabinet meetings of the Union in the absence of the Prime Minister during 1980-1985".
Of course, Mukherjee had his own bad days in Congress which he had to quit in the mid 80s after he had evinced interest in becoming the Prime Minister on the death of Indira Gandhi in 1984.
It took some time before he came back into the party but once he was in there was no stopping his rise once again.  
Mukherjee was a powerful Minister of State for Revenue during Emergency and in nine years from 1973, he rose to become the Finance Minister in Indira Gandhi's Cabinet.  
Again his importance was seen when the late P V Narasimha Rao made him Deputy Chairman of the Planning Commission as well as Minister of External Affairs. In between he had to quit because he ceased to be a Member of Parliament and came back to the Cabinet after re-election.
Mukherjee began his public life in the 60s in Bangla Congress during the time of late Chief Minister Ajoy Mukherjee of the United Front government when Jyoti Basu was Deputy Chief Minister in West Bengal. He was general secretary of Bangla Congress.
Son of senior Congress leader Kinkar Mukherjee from West Bengal, Pranab had a brief stint as lawyer, teacher and journalist before he was embedded to his destiny of politics in 1969 when be became a member of the Rajya Sabha.
Recording a quick growth in his political career soon after, Mukherjee who became a Minister of State for Industrial Development in 1973 rose to become the country's Finance Minister (1982-1984) during Indira Gandhi's period, a post he held again in the UPA-2 Manmohan Singh government.