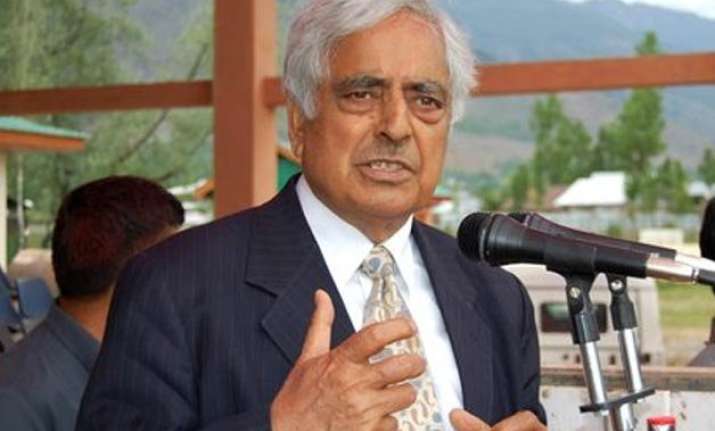 Jammu: Unfazed by Jammu and Kashmir Chief Minister Mufti Mohammed Sayeed's controversial remarks, BJP ministers who assumed charge of their ministries today expressed optimism and confidence.
"It was once thought to be an impossible thing, which has been made possible and we are today sitting here," Chander Prakash Ganga who took the charge of Industries and Commerce ministry in Mufti Sayeed Government told PTI.  
55-year-old Ganga, who won from Vijaypur Assembly constituency and was one of the top ranking leaders heading 2008 Amarnath land row sounded optimistic over future prospects of the coalition government.  
"There were two different mandates—Jammu region instilled their trust in BJP and the people of Kashmir chose PDP. We will respect the mandates of both regions and provide them with the best possible government," he said.
Like Ganga, another minister Sunil Sharma, also gave a thumbs up to the Sayeed government.  "This government will run full six years and ensure good governance, development, accountability in administration and address problems of the people. It will be the best coalition government that Jammu and Kashmir seen till now," he said.  Sharma, who took charge of MoS works and revenue department criticised the previous NC-Congress government for being a "turmoil in the state".
Our government will ensure peaceful environment and overall development of all the three regions, he said.  BJP ministers, Bali Bhagat and Sukhnandan Choudhary, who took charge of Ministries of Forest and Public Health Engineering respectively also echoed the sentiments of their colleague.
The newly sworn-in J&K government ran into rough weather when Chief Minister remarked that Pakistan, Hurriyat and militant outfits were responsible for the peaceful Assembly elections. The remarks were widely criticised but Sayeed chose to stick with his comments.
Ruling PDP's recent demand from NDA government for return of the mortal remains of Parliament attack convict Afzal Guru also raised eyebrows in the political circle.  J&K scripted history when BJP partnered coalition government was formed in Jammu and Kashmir.  
Ending 49-days of Governor rule, the state got a new government with veteran PDP leader Mufti Mohammad Sayeed taking oath as Chief Minister of a 25-member cabinet which marked the entry of BJP for the first time in the state government on March 1.
The December 23 assembly election in the state had produced a highly-fractured mandate with PDP emerging as the single largest party with 28 MLAs followed by BJP with 25.  Erstwhile allies National Conference and Congress ended with 15 and 12 seats respectively.