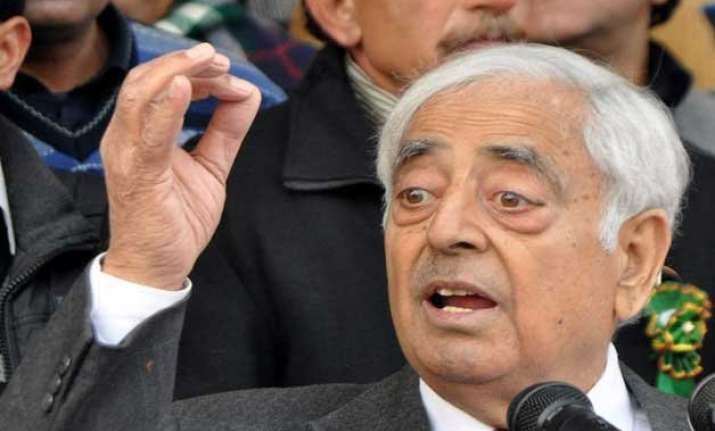 New Delhi: Mufti Mohammad Sayeed is set to sworn in as Jammu & Kashmir chief minister on March 1 as BJP and PDP finalized the details of coalition government. PDP leader Mehbooba Mufti and BJP president Amit Shah formally made the announcement after a meeting on Tuesday.
Both the parties have been stuck over the key issues like AFSPA and Article 370 as they different approaches over the controversial subjects.
While talking to the media, Amit Shah said, "The deadlock that existed on some issues, has been broken. After several rounds of discussion a common minimum programme has been arrived at."
While addressing the media, Mehbooba Mufti said, "Keeping in mind, the development and aspirations of J&K people, we have formulated an agenda of alliance between BJP-PDP. This alliance is not for power sharing but to win the hearts and minds of people of J&K.".
According to the common minimum programme (CMP) finalized by the two parties, Sayeed will be chief minister for entire six-year term and BJP's Nirmal Singh is likely to be deputy chief minister, reported news agency PTI. The portfolios have also been finalised with the PDP likely to walk away with home and finance, while BJP is expected to get tourism and water resources, public health engineering and planning.
Sayeed had earlier headed a coalition government with Congress for three years from 2002.
In the assembly polls held in December last year, PDP emerged as the single largest party with 28 seats while BJP got 25 seats in the 87-member House.
Both parties have kept under wraps the details of the CMP, particularly with respect to the Article 370 and Armed Forces Special Powers Act (AFSPA), the two issues over which the two parties have completely opposite views.
The CMP needs to be read in totality and not in bits and pieces, leaders from the two parties said. The two sides are understood to have agreed on formation of a committee which will go into the AFSPA issue and suggest areas from where it could be revoked.
On Article 370, while BJP has given no written assurance as demanded by the PDP, the CMP is expected to say that both parties will respect the aspirations of the people of the state within the Constitution.
The proposed CMP may also touch upon the issue of more than 25,000 families of West Pakistan refugees by terming it as a humanitarian issue.
PDP patron Mufti Mohammad Sayeed is likely to meet Prime Minister Narendra Modi tomorrow.
(With inputs from PTI)