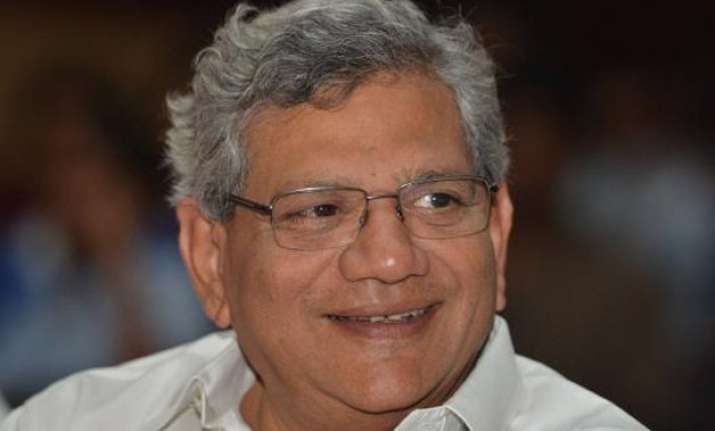 New Delhi: Terming the PDP-BJP coalition government in Jammu and Kashmir as a "downright opportunist" alliance, CPI(M) today warned that the BJP ministers would now call the shots and Chief Minister Mufti Mohammad Sayeed would find himself a prisoner of his "own cynical politics".
Observing that the alliance would have "disturbing implications", senior CPI(M) leader Sitaram Yechury said the BJP would "continue to undermine the unity of the state by fanning and consolidating Hindu communal sentiments" in Jammu and widening the gap between Jammu and the Valley.
In an editorial in CPI(M) organ 'People's Democracy', he said "the PDP-BJP government is not just a marriage of convenience but it is a downright opportunist alliance between two parties who hold diametrically opposite and contradictory political and ideological views."
Observing that the PDP in its "desperation" to form government has "landed itself in an "unenviable" position", Yechury said, "It will be the BJP ministers backed by the centre who will call the shots".
"The Army and the Paramilitary forces will be directed by the Narendra Modi government and Mufti Mohammad Sayeed and Mehbooba Mufti will find themselves prisoners of their own cynical politics. Such a situation does not auger well for Kashmir and its people," he said.
Noting that the BJP is "intrinsically" hostile to the idea of a Muslim majority state like Jammu and Kashmir, the editorial said that BJP's mentor - the RSS - has been steadfast in its opposition to any special status for the state.
"It (RSS) has advocated trifurcation of the state on religious lines - the Hindu part of Jammu to be made into a separate state, making Ladakh a Union Territory and isolating the Valley," he said.
The party said that being in the state government and with the BJP government at the centre, the RSS and the BJP will work towards further "heightening" the divide and "fanning" the separatist sentiments while weakening the framework of unity of the state.
He also termed the optimism displayed by newspaper editorials of a new beginning in the state as "misplaced".
He said that the "alienation" which is widespread will deepen among the people and the "ascendancy" of the BJP to the government can only feed extremism and the fundamentalist forces in the Valley.