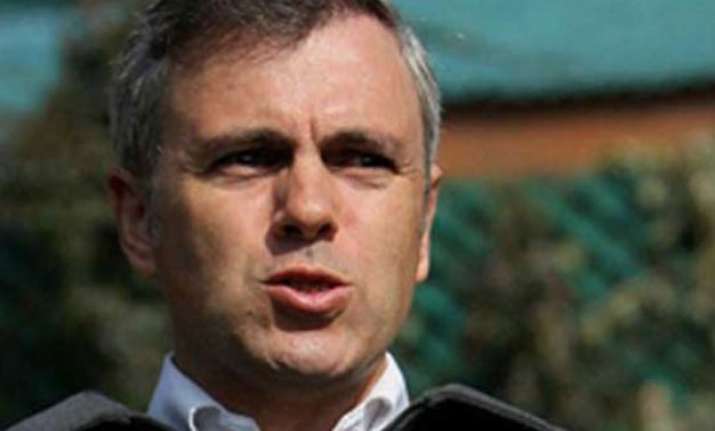 New Delhi:  Taking a dig at chief minister of Jammu and Kashmir Mufti Mohammad Sayeed 's recent statement former Chief minister Omar Abdullah said " We should thank Pakistan, Hurriyat and Militants for allowing conducive atmosphere for peaceful elections in the state.
Soon after taking oath Mufti courted the controversy by saying Pakistan, Hurriyat and Militants allowed a conducive atmosphere for peaceful elections in the state
In a series of tweets, Omar Abdullah took potshots at the new J & K government as well as the BJP.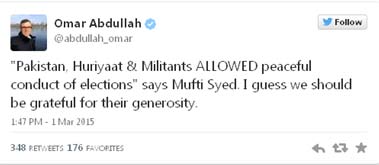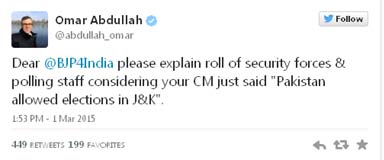 He also sought a response from  Bharatiya Janata Party  on the CM's  statement,   given its nationalistic stand  on the J & K issue.
"Dear BJP, please explain role of security forces and polling staff considering your CM just said 'Pak allowed elections in J&K," he tweeted.
 After assuming office as chief minister of the state CM Sayeed said, "Pakistan, Hurriyat and militants allowed conducive atmosphere for assembly elections in Jammu and Kashmir."
Mufti  Sayeed's statement faced very strong criticism from the opposition parties of the state.
However BJP marked a cautionary note.
When asked about Mufti Sayeed's  statement , BJP leader Sambit Patra said, "Fate of people of J&K is far more important than statements of any individua."
"We Should take Hurriyat and the separatist on board as  they too have a viewpoint," said Sayeed  emphasizing  the need to engage all stakeholders.
In another controversial statement Mufti said we had no option but to talk with Pakistan on Kashmir issue.