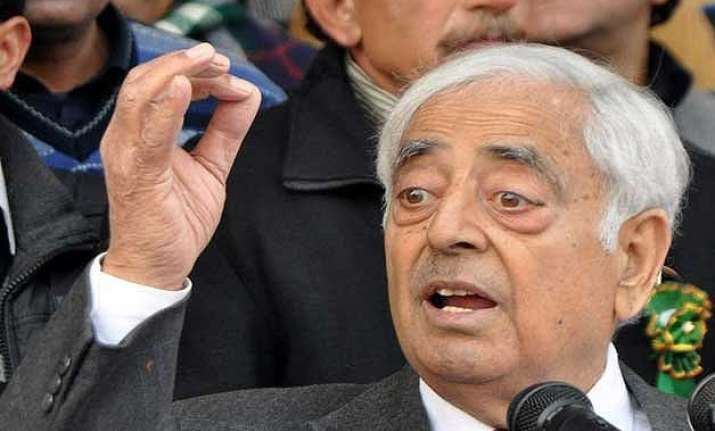 Jammu:  Asserting that there is no option other than talks with Pakistan over Kashmir, Jammu and Kashmir Chief Minister Mufti Mohammad Sayeed today said Prime Minister Narendra Modi had deputed Foreign Secretary to begin talks with neighbouring country.
"No such assurance... There is no question of assurance.  He (Prime Minister) told me when he met me that I deputed my Foreign Secretary to go there and talk. It was his first response," Mufti told reporters when asked whether Prime Minister Modi has given him assurance on commencement of dialogue with Pakistan.
"It was his (PM's) response. In my perception, there is no other option (other than holding talks with Pakistan)," he said.Mufti was addressing his first press conference after taking over as Chief Minister of the state today.  
Speaking further on the issue, Mufti said, "During meeting with the Prime Minister, I gave my perspective (on the need for Indo-Pak talks). We have a stand and voice on this.  We are there.
"Our voice will be heard as we are democratically elected government. There is track-2 (for dialogue with Pakistan).  What will happen if some of our people go there and hold talks. I do not thing it is controversy. In any case we are part of the government."
On the PDP-BJP alliance, the chief minister said, "BJP has mandate of the people of India and Modi is elected PM. It is not out of compulsion that I have gone in alliance with BJP but this alliance is out of conviction. I see future in this alliance."