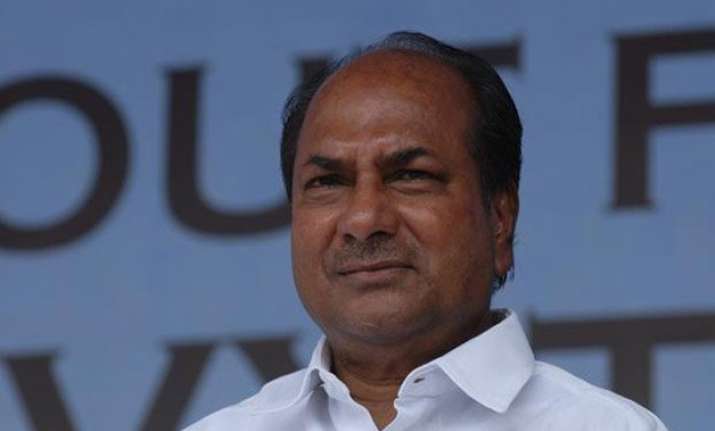 New Delhi: Amid conflicting voices within the party over elevating Rahul Gandhi as Congress President, veteran party leader A K Antony today said there is "no confusion" on the issue.
"Many a times it has been explained. We are not expected to explain it every day. There is no confusion," Antony said.
He was asked about the different voices in the party over the issue of elevation of Rahul and the recent remarks of senior leader Captain Amarinder Singh that the vice president should remain number-2 in the party for some time as Sonia is most suited to lead the Congress under existing circumstances.
Asked whether Rahul, whose sabbatical has now crossed over six weeks will come back or not, the party veteran said, "Don't worry about that—He will be there on 19th."
Congress plans a massive rally on farmers' issue particularly against NDA's land bill on April 19 which will be addressed by both Sonia and Rahul.  
He refused to take further questions on the issue saying this is not an occassion to bring that subject here. "Please do not bring other issues on this occassion. Because I wanted to avoid confusion that is why I told you. On April 19 rally, both Congress President Sonia Gandhi and Rahul Gandhi will address the rally. It will be a massive rally," he said.
The party veteran made the remarks while addressing a joint press conference at the AICC with Leader of Congress in Lok Sabha Mallikarjun Kharge and former Home Minister Sushilkumar Shinde after a meeting chaired by Sonia Gandhi to finalize celebration programmes of the party on the occassion of the 125th birth anniversary of B R Ambedkar.
Asked to explain further on Amarinder's remarks about leadership, Kharge merely said, "Antonyji has already told you about it."
Antony, a Gandhi loyalist, had moved the resolution in Congress Working Committee meeting in Jaipur during party's Chintan Shivir in January 2013, to name Rahul as party vice president.