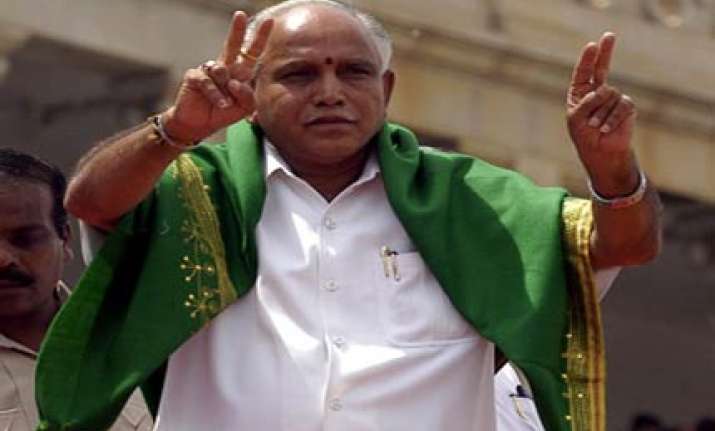 Bangalore, Feb 12 :  Karnataka unit BJP President K S Eswarappa today dismissed as mere speculation triggerred off by opposition Congress and JDS that the state headed towards mid-term polls in the wake of political instability faced by the saffron party government.
"There is no change of guard. We will work unitedly under the leadership of the Chief Minister B S Yeddyurappa in the coming two years. The opposition parties are only trying to create confusion in the minds of people about mid-term election", Eswarappa told reporters here.
He came in stout defence the understanding BJP struck with the political rival JDS to gain control of Mysore Zilla Panchayat, which he described as an arrangement "at local level by local leaders".
"We are also doing politics here. Should we leave it to Congress?. We are not sanyasis", Eswarappa hit back at Congress leaders who have been criticising the BJP-JDS tie up.
He said the party was organising a rally of BJP workers here on February 20 which would be inaugurated by its President
Nitin Gadkari
.The rally was meant to celebrate the completion of 1000 days in office by the BJP Government, the first ever in the south and also to strengthen the organisation at booth level,he said.
The rally could not be viewed as a preparation for the midterm assembly election, but for the polls that was normally due in 2013, he said.In Mysore Congress activists headed by H Vishwanath, MP,staged a protest rally decrying the pact between BJP and JDS to rule the Panchayat.
Addressing the rally Vishwanath urged JDS to change the party's name as it had 'given a go by' to its secular credentials following the tie up.In Bangalore, Yeddyurappa today said no significance should be attached to his two-day visit to Delhi and termed it as a "routine visit".
"BJP is a national party. As Chief Minister of a state, I am duty bound to brief my high command leaders on the political situation in the state and also seek their guidance", Yeddyurappa told reporters after a meeting of ministers and senior leaders he had convened at his private residence here.
Yeddyurappa who called senior leaders like L K Advani, Arun Jaitley and Sushma Swaraj in the last two days in Delhi said he sought suggestions and guidance from them.
Yeddyurappa is under battering from opposition parties to quit in the wake of Governor H R Bhardwaj giving sanction to prosecute him on allegations of corruption.
The Chief Minister appealed to Congress and JDS to cooperate with the government during the budget session,obviously seeking their help in conducting the legislature session.Opposition parties disrupted the session demanding the resignation by Yeddyurappa government over the land scams it faced. PTI