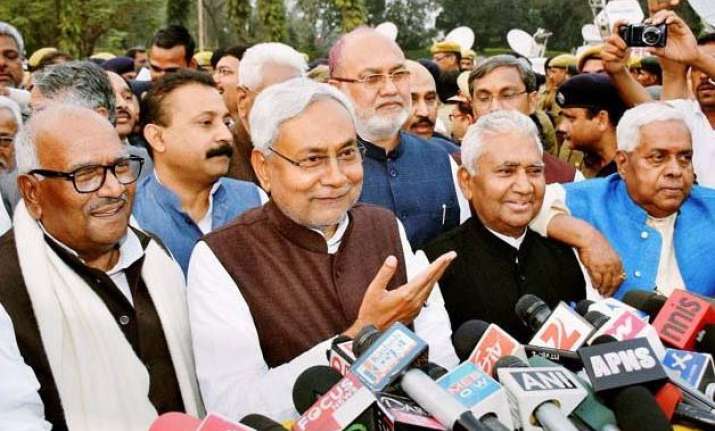 Patna: Ending days of political uncertainties, Janata Dal (United) Legislature Party leader Nitish Kumar is set to return as Bihar chief minister for the fourth time on Sunday.
Bihar Governor Keshri Nath Tripathi will administer oath and secrecy to him at a simple ceremony at Raj Bhavan in Patna at 5 PM.
Samajwadi Party president Mulayam Singh Yadav, RJD supremo Lalu Prasad, former Prime minister H.D. Deve Gowda, West Bengal Chief Minister Mamata Bannerjee, Assam Chief minister Tarun Gogoi and former Jharkhand Chief minister Babulal Marandi are among those who are expected to attend the swearing in ceremony of Nitish Kumar.
While addressing a gathering outside his house, Kumar with folded hands sought an apology for resigning as chief minister last year. He also assured that he will not commit same mistakes in future.
He has been asked by the governor to prove his majority in the Bihar Assembly on March 16.
On the other hand, former Bihar chief minister Jitan Ram Manjhi yesterday refuted reports of joining the Bharatiya Janata Party and extended his best wishes to former boss and senior JD (U) leader Nitish Kumar for his swearing-in ceremony.
"I extend my greetings to Nitish ji for the swearing-in ceremony. I will attend if I am invited," said Manjhi.
"There is no truth in that (on joining the BJP), we will decide our future course on 28th. I avoided a lot of bad things for Bihar by just resigning," he added.
Manjhi, who stepped down as the Chief Minister yesterday, alleged that his legislators and ministers were given death threats ahead of the trust vote.
Meanwhile, JD(U) allies RJD, Congress and CPI are yet to take a decision on joining the government.
RJD which has 24 members, Congress 5, CPI 1 and an independent stood solidly behind Kumar throughout the political crisis and its MLAs joined JD(U) legislators to take the total to 130. The members were present both at the Raj Bhavan and outside Rashtrapati Bhavan in Delhi to prove their numbers.
"Congress will take a decision (on joining the government) after Nitish Kumar proves his majority on the floor of the House," Bihar PCC president Ashok Choudhary told PTI on Saturday.
He said he has acquainted the party high command with the latest political situation in the state and would act according to instructions received from it after the trust vote.
Choudhary, however, said Congress support to Kumar was already there irrespective of the fact whether it joins his ministry or not.
CLP leader Sadanand Singh echoed similar views.
West Bengal Chief Minister Mamata Banerjee has also congratulated Nitish Kumar and is expected to attend the ceremony.