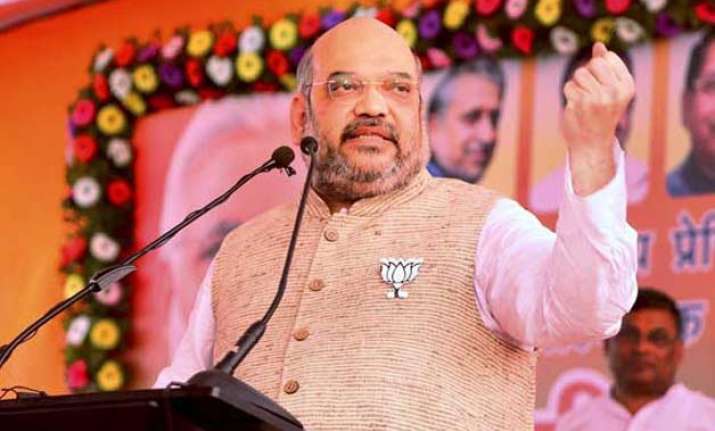 New Delhi: BJP President Amit Shah tonight steered clear of questions whether he considered the outcome of Bihar polls a referendum on the performance of the Narendra Modi government, but expressed confidence that the NDA would come to power with 2/3rd majority.
"You ask me the question on November eight. I will reply ...But I know you will not ask because we would have won. We are going to get a two-third majority...I do not have any confusion", Shah said in an interview to an English news channel.
When pressed further, he said that this is an election for Bihar which should be fought on issues concerning the state and these are galore there.
"The election is for Bihar whether it is a referendum on Bihar or not will be decided by people of Bihar on November 8. Election should be fought on the issues of Bihar. The issues here are Bijli, pani and sadak," he said.
"Here the issue is not what Modiji did about foreign policy or what is the country's growth rate. Elections should be fought on Bihar issues and since they are so many issues of Bihar, it will not reach the level of national issues," Shah said in reply to a volley of questions including whether the outcome could be a referendum on Modi government or not.
Dismissing queries what if the BJP loses and whether it could have an adverse impact on the Modi dispensation, he said the outcome of the Bihar polls would be "positive" on the Modi government as "we are going to win it. NDA is going to secure 2/3rd majority. It will help us spread in Eastern India".
"I have never made victory or defeat in any elections a matter of prestige", he said when asked as to how much personal stake he has in the Bihar poll outcome. He at the same time said that it is important for the nation, that BJP wins elections in Bihar, Uttar Pradesh, West Bengal so that the country can achieve double digit growth.
Shah also defended his controversial comments on "firecrackers in Pakistan" and ruled out any communalism behind it. "What I said means if Modi and BJP are weakened, it is natural for the anti-national forces to be happy. I am only saying this much. Where is communalism in this.