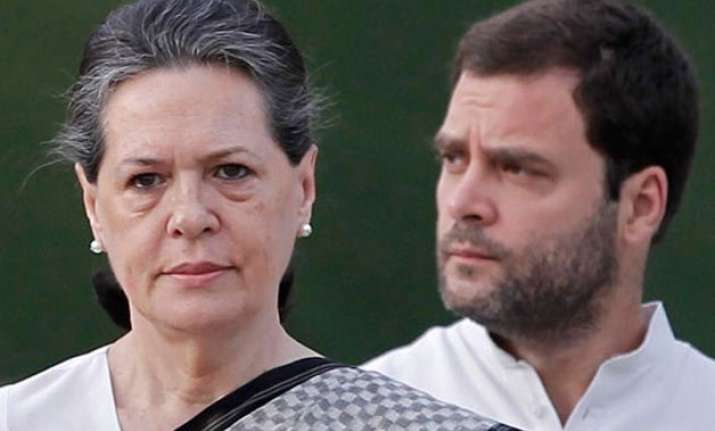 New Delhi: Congress President Sonia Gandhi on Tuesday said that she will not be scared by the 'political vendetta' pursued against her and the party.
"Why should I be scared of anyone? I am Indira Gandhi's daughter in law, I am not scared of anyone," she said.
When asked if the case was political vendetta, she said, "I leave it on you to judge."
Sonia Gandhi and her son Rahul Gandhi will appear before a city court on December 19 in National Herald case as the court gave interim relief to leaders from appearing before it on Tuesday.
Yesterday, a Delhi high court verdict declined to grant the Congress leaders exemption from personal appearance before a trial court.
Along with the Gandhis, five other accused--Suman Dubey, Moti Lal Vohra, Oscar Fernandez, Sam Pitroda and Young India Ltd--had challenged the summons issued to them by a trial court on a complaint by BJP leader Subramanian Swamy against them for alleged cheating and misappropriation of funds in taking control of the now-defunct daily.
Congress leader and Gandhis' lawyer Abhishek Manu Sanghvi also has said that the BJP govt is targeting Congress leaders.
"This is political vendetta at its worst, Dr. Subramaniam Swamy, the complaint, is senior member of BJP Central Committee,"  he said.
A vociferous Congress today forced adjournment of both Houses of Parliament till 1130 hours.
Congress members in both Lok Sabha and Rajya Sabha stormed into the Well no sooner had they met for the day, protesting over the "politics of revenge".
In Lok Sabha, Speaker Sumitra Mahajan asked Congress leader Mallikarjun Kharge to explain what his party was protesting against. But Kharge did not respond to her as Sonia Gandhi, sitting next to him, gestured him apparently not to say anything.
Similar scenes were witnessed in Rajya Sabha where slogan shouting Congress members stormed the Well as soon as it met for the day.
They raised slogans like "Tanashahi nahi chalegi" (dictatorship will not be tolerated)" and "Badle ke rajnathi nahi chalegi (politics of revenge).
Union Minister Nirmala Sitharaman said, "It's for the court to decide.  When a political party collect money from public and use it for personal benefit. It's court to decide, after all it is a legal matter. Why Sonia and Rahul Gandhi are afraid to go to court. They can go and defend themselves. What is the purpose to stall the Parliament?"