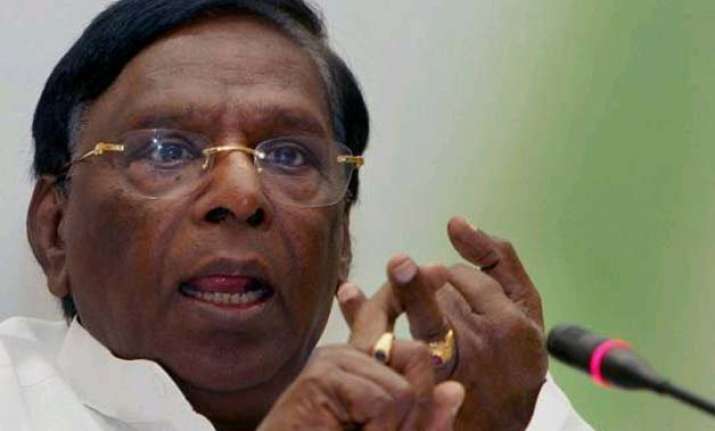 Puducherry: AICC General Secretary for North Eastern States V Narayanasamy today flayed the BJP-led NDA government for taking ordinance route to bring in amendment to Land Acquisition Act, saying it has "committed mayhem of democracy".
"Congress will not keep quiet. We will hold agitations across the country to oppose the undemocratic and unethical practice on part of the BJP regime. Government has committed mayhem of democracy (by taking ordinance route)," he said.  The Centre has also violated the norms and ethics of democracy by adopting ordinance route on important issues, he said.
Even when one ordinance was contemplated by the previous UPA government, BJP staged protests both inside and outside Parliament, he said.
"But now the BJP-led government has brought in an unprecedented number of ordinances to enforce various legislations," he said.
"We will not brook autocratic style of functioning of the Narendra Modi-led BJP government," he added.  He said that Puducherry government is now encountering 'financial emergency'.
He alleged that the government staff are not able to draw money from their PF accounts as there is a serious financial crisis.
He charged the Urban Development Ministry with withdrawing a drinking water and underground drainage project involving an outlay of around Rs 450 crore finalised under Jawaharlal Nehru National Urban Mission during the previous UPA government for Puducherry and Karaikal.  Narayanasamy wanted Chief Minister N Rangasamy to explain this as "injustice had been done to Puducherry by his silence."
The Centre has also sent a detailed letter to Puducherry government on withdrawal of the scheme, he said.  Speaking on the observation of Congress legislator Malladi Krishna Rao representing Yanam, with respect to the 2016 assembly polls, that Rangasamy would be Chief Minister without break, Narayanasamy said the party here would seek his reply and after that the next course of action would be decided.
A two-member AICC delegation, headed by the party's General Secretary Mukul Wasnik, is now conducting special camps in various constituencies to get feedback on modalities the Congress should adopt to revamp the party here, he said.