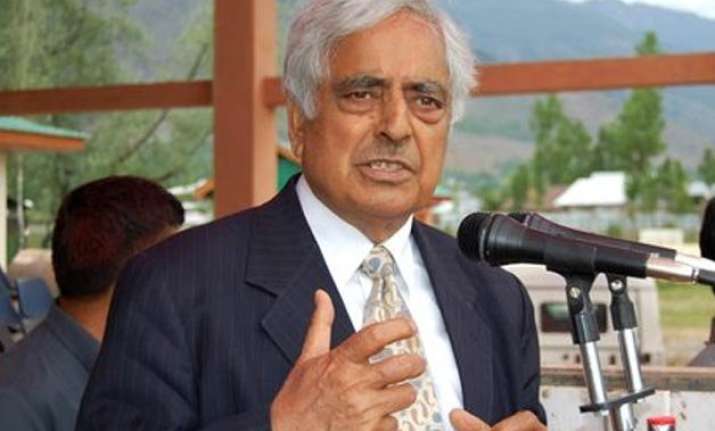 Jammu: The 49-day Governor's rule comes to end tomorrow in Jammu and Kashmir with the wearing-in of PDP leader Mufti Mohammad Sayeed as Chief Minister in an alliance with BJP which will be part of a government for the first time in the state.
79-year-old Sayeed will be administered oath of office by Governor N N Vohra here at a function which will be attended by Prime Minister Narendra Modi, Union Ministers including Home Minister Rajnath Singh and senior BJP leaders L K Advani and Murli Manohar Joshi among others.
Vohra has invited Sayeed to form government.
The strength of the alliance government, which has been termed as a meeting of "North Pole and South Pole" by Sayeed, is expected to be 25 with 12 PDP MLAs set to take oath along with the Chief Minister and 11 drawn from BJP whose 11 MLAs, including Nirmal Singh tipped to be Deputy Chief Minister.
Separatist-turned politician and leader of People's Conference Sajjad Lone is also likely to be part of the coalition government. He was earlier booked on a flight to Jammu which he had cancelled after he was not getting a choice portfolio.
However, after negotiations Lone settled for another ministry and travelled to Jammu by road from Kashmir. Efforts to reach him did not fructify as he was not answering his phone.
Among the prominet faces who are likely to be part of the alliance government include Haseeb Drabu, Abdul Rehman Veeri and Naeem Akhtar (PDP) and Kavinder Gupta and Bali Bhagat.
After the swearing-in, all eyes will be on release of the Common Minimum Programme by the two parties jointly and the point of interest will be how the two parties have dealt with controversial issues like Article 370, which gives special status to the state, and AFSPA.
It will be released tomorrow afternoon.
The December 23 assembly election in the state produced a highly-fractured mandate with PDP emerging as the single largest party with 28 MLAs followed by BJP with 25. Erstwhile allies National Conference and Congress ended with 15 and 12 seats respectively.
BJP and PDP, which have been in negotiations for nearly two months, claimed to have sorted out all the differences over Article 370, Armed Forces Special Powers Act, resettlement of West Pakistan Refugees.