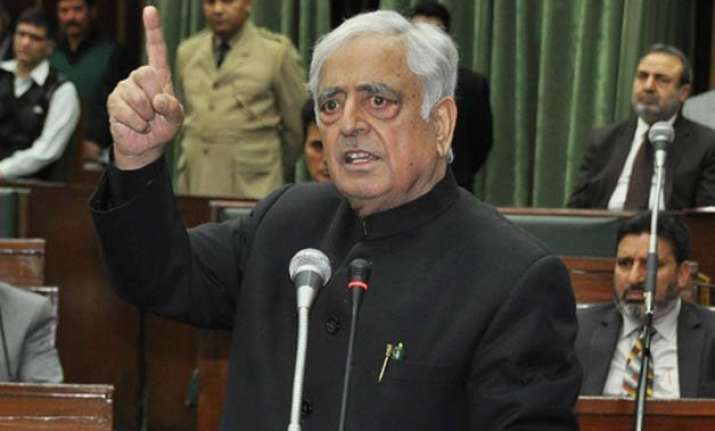 Srinagar: Jammu and Kashmir Chief Minister Mufti Mohammad Sayeed today said that his government would take action against Masarat Alam in accordance with law of the land.
Earlier, media reports had suggested that Mufti was not in favour of the arrest of separatist leader.
Home Minister Rajnath Singh on Thursday had a word with J&K Chief Minister Mufti Mohammad Sayeed over telephone on the issue of arrest of separatist leader Masrata Alam and Syed Ali Shah Geelani.  The HM reportedly told the CM that centre wants arrest of separatist leaders.
Yesterday in a rally organised to welcome another separatist leader Syed Ali Shah Geelani, Masarat and his supporters waved Pakistani flags and shouted anti-India, Pro-Pak slogans.
Mufti's promise of action came after Home Minister Rajnath Singh had a word with him over telephone on the issue of arrest of Alam and Geelani.
Yesterday, officials in Srinagar registered an FIR against Geelani, Alam and other separatist leaders for their "provocative activities" and waving the Pakistani flag in Hyderpora area of the valley yesterday. The FIR was filed under the provisions of the Unlawful Activities Prevention Act and RPC.
When asked about his possible arrest, Masarat Alam told India TV, "India is a democratic country and everyone is entitled to express their opinion. Government should respect people's feelings."
During the rally yesterday, some people also pelted stones at CRPF vehicles. The security personnel exercised restraint to safeguard the lives of people.
While addressing the crowd, Geelani targeted the Jammu and Kashmir government and accused the Rashtriya Swayamsevak Sangh (RSS) of plotting against Kashmir.
The speech was was simultaneously broadcast in Islamabad and Pakistan-occupied Kashmir capital Muzaffarabad.
 He said that the Centre's plan of composite townships for displaced Kashmiri Pandits was unacceptable.  He also targeted security forces and the government for the Tral encounter that took place on Monday.
The Army had shot down a suspected militant during a search operation in Kamla Top forest area near Buchoo village of Tral in Pulwama district.
Masarat Alam and other separatist leader Yasin Malik were detained by the police on Tuesday while protesting against the encounter.