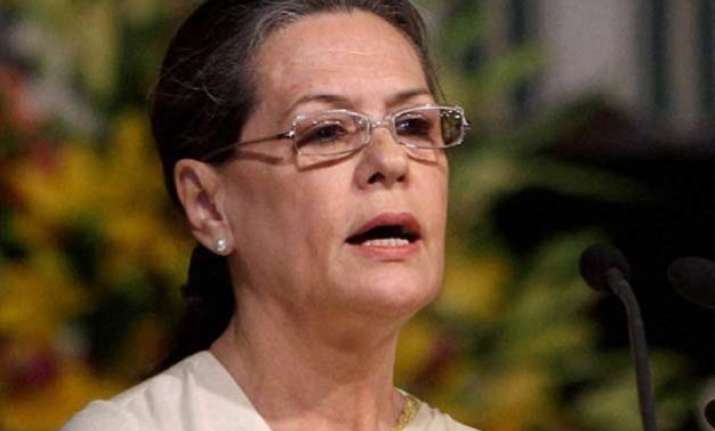 New Delhi: Congress president Sonia Gandhi indicated that the party was set to continue its aggressive stand against the government as it displayed in Rajya Sabha on Tuesday.
At a strategy meet amid turbulence in the Upper House on the opening day of the Monsoon Session, Sonia said, Lalitgate and Vyapam were people's issues and Congress could not go back on its demand.
Sonia told her MPs that they need to send a message that NDA government was shielding the corrupt.
Congress will raise the clamour for the resignations of External Affairs Minister, Sushma Swaraj, and Rajasthan and Madhya Pradesh Chief Ministers Vasundhara Raje and Shivraj Singh Chouhan, respectively, and would not let the Parliament function.
With the active support of other opposition parties, the government calculates that Congress may not find it easy to sustain its high-pitched demand for three heavyweight resignations.
It has been decided that Vyapam and Lalitgate will be raised on Wednesday and Thursday.
Meanwhile, Congress has planned to hold a protest in front of the Gandhi statue in Parliament on Wednesday. Sonia and Rahul Gandhi will take part in the sit-in protest.
Leader of opposition in Rajya Sabha Ghulam Nabi Azad and deputy leader Anand Sharma told reporters that Congress had adopted the policy of "first resignation, then discussion".
Azad said if the government wanted legislations to be passed, it should sack the tainted leaders as was being demanded for over a month since the scams came to light.
With a meagre 44 MPs, Sonia has instructed all members to be present to put up a united front so that the party's weak strength is not further weakened.