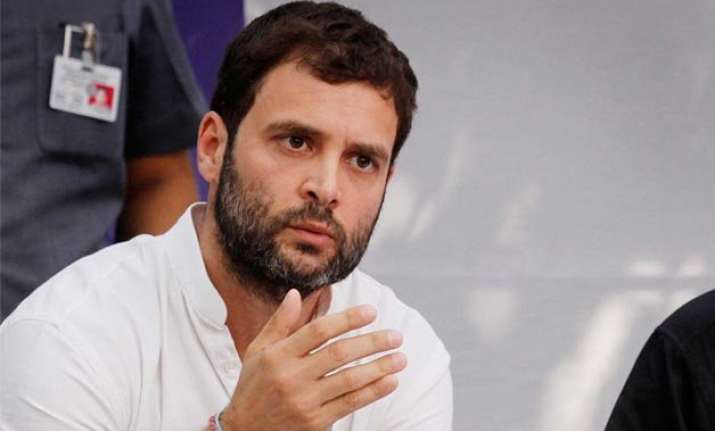 Haveri (KTK): In a fierce attack on Narendra Modi, Congress leader Rahul Gandhi today alleged that in a bid to help his industrialist friends he was weakening the "crying" farmers of the country so that they become labourers and their lands could be acquired effortlessly.
Addressing a rally at Gudugur, Rahul alleged that Modi had no time for "crying" farmers and labourers and wanted to help three or four of his big business friends who are eyeing farmers' land.
"The truth is Narendra Modi has three or four big Industrialist/Business friends, they want your land. They are aware that the land that today costs one or two lakh rupees, after eight or ten years will cost crores of rupees, and they in one or the other way want to acquire your land."
"We may be 40 to 45 (MPs) in Parliament but Indian farmers and labourers are with us. These people are still not aware of the strength of our farmers," he said.
 
Rahul alleged that the farmers were being weakened in several ways.
"If they can't do it their way, they want to acquire your land by weakening farmers. Narendra Modi wants your land, whose price will increase. So for this, he will not increase MSP, he will not waive off your loan and won't help you."
"He wants Indian farmer to get weakened. They want farmers to turn labourers and farmer's land should go into the hands of those countable people. Congress will not allow this to happen," Rahul said at a rally during his nearly 7-km long padayatra in the district.
Rahul concluded his two-day visit to Karnataka today, during which he consoled the families of farmers who committed suicide in Mandya and Haveri districts. Both the districts reported most of agrarian crisis-driven suicides in the state.
 
"Today, in the entire country, farmers and labourers are crying. BJP government is in power, but farmers and labourers feel that it is not their government, it is someone else's government," he said.
"Congress will not allow this to happen," he said. Giving succour to distressed farmers, Karnataka Chief Minister Siddaramaiah announced at the rally waiver of interest and penal interest on crop loans from cooperative banks for the current fiscal. He also announced hike in compensation from Rs 2 lakh to Rs 5 lakh for families of farmers who had committed suicide.
"Farmer is crying, labourer is crying, poor man is crying, but the Prime Minister is touring the world. His aircraft sometimes lands in America, sometimes in China, sometimes in England, it lands in different countries and Modiji comes out, holds meetings and comes back," Rahul said.
 
Rahul said Modi takes photos with big industry leaders, shakes hand with them, makes "big speeches" on 'Make In India' and 'Swachh Bharat' but in the last one year "I haven't seen even a single photo of Prime Minister with a farmer together." The Congress leader alleged that the prime minister had no time for farmers with dirty clothes.
"Narendra Modi does not take photo with those with dirty clothes and those with blisters on their hands because he doesn't meet them. Now that I have said this, a photo of him with farmers, poor and labourers may surface in a couple of days."
"BJP leaders say Prime Minister meets poor people, but as farmers don't have money Narendra Modi doesn't have time for them. Modi doesn't have time for labourers as they too don't have money," Rahul said.
Rahul said, "he goes out and talks to people and within the country he tells people his 'Man ki Baat', but when will the Prime Minister listen to 'Man ki Baat' of farmers and labourers?" If he listens or not, Congress will always stand for Indian farmers and labourers."
The UPA government had waived about Rs 70,000 crore loan and increased minimum support price for crops and announced packages for crop loss, Rahul said.
"For us, we don't have any caste, religious or linguistic differences among farmers, labourers and poor. For us all of them belong to this country."
"For BJP, Karnataka farmer is not farmer of Hindustan. They will not feel any difference if the farmer of Karnataka is in trouble or dying."
Reminding about the land bill introduced by UPA government that was in the interests of farmers as it required their consent before acquiring land, he accused BJP and Modi of supporting the legislation first and then trying to change it after coming to power.
He said that BJP tried to enforce their land bill which was against the interest of farmers through ordinance thrice when Congress opposed it in the Parliament.
"After realising that they won't succeed, in his 'Man ki Baat', Modi said he will not take land, but they have asked BJP-ruled state governments to pass it in their states and acquire land."
Rahul said we need industries and employment, but there is no shortage of land and there is enough land with the government, "but they want your land and this is their conspiracy to take away your land."