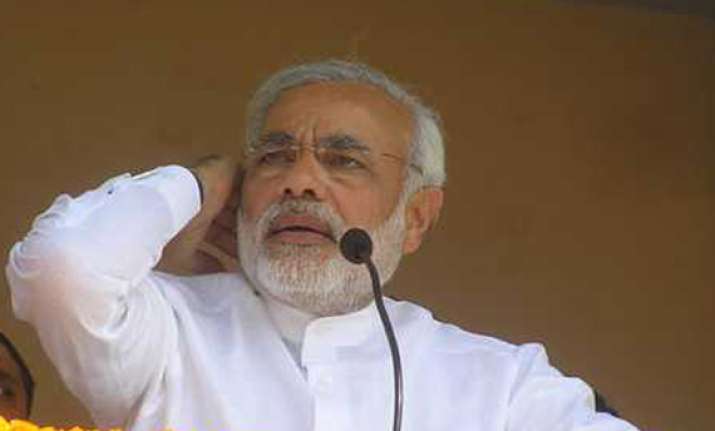 New Delhi, Dec 13: External Affairs Minister Salman Khurshid Thursday claimed that Gujarat Chief Minister Narendra Modi had raked up a sensitive international issue when he cautioned against any possible agreement on Sir Creek as the state headed for assembly polls, and the matter could be taken up with the Election Commission.
"I think it is something to reflect on, that some good decisions you take, you are told during elections you can't take them... then somebody should take account of this (Modi) as well... Is it permissible," Khurshid said on the sidelines of the Energy Security Conference here.
"If you can't raise (the cap on subsidised) gas cylinders from six to nine, can you raise such an issue of international relations? It should be taken up with the Election Commission; what are the permissible limits of issues that can be taken up during elections," asked the minister.
He was answering a query on Modi's letter to Prime Minister Manmohan Singh Wednesday, cautioning against any possible agreement on Sir Creek -- the 96-km strip of water dividing the Pakistani province of Sindh and the Kutch region of Gujarat.
Modi said handing over Sir Creek "will be a permanent threat to the fishermen of Saurashtra and Kutch and also vital defence installations and major industrial installations like refineries and ports".
"Sir Creek is a part of our body. We cannot give away a part of our body," the Gujarat chief minister said.
The Prime Minister's Office described Modi's letter as 'mischievous' and also raised questions on the timing of the letter, written a day ahead of the first phase of polling in Gujarat and two days ahead of Pakistan Interior Minister Rehman Malik's visit.
"The contents of the letter and the timing of its release to the public raise questions about the motives behind its issue," the PMO said.