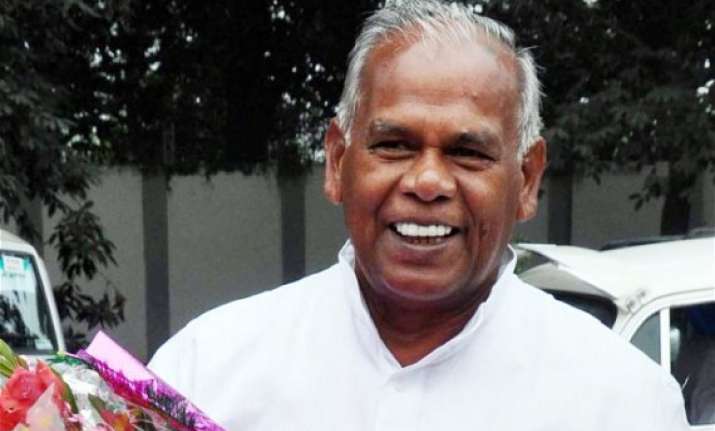 Patna: Under attack from opposition over the stampede incident that left 33 dead and 29 injured, Bihar Chief Minister Jitan Ram Manjhi today said such incidents happen in other states also and strongly refuted the label of being a "dummy CM".
"Such incidents happen in other states too," Manjhi told reporters.
Citing eyewitnesses accounts about reasons for stampede due to rumour spreading, which he described as part of a "conspiracy",  Manjhi contended truth will come out in the probe.
Asked that opposition mocking him as a "dummy" CM, Manjhi shot back the opposition tirade against him was due to his humble background as a schedule caste.  Manjhi also referred to eyewitness reports of snapping of a live wire following a loud explosion and uprooted pipe of the ditch below the gate that led towards Ramgoolam Chowk.  
"There must be some reason for the tragedy. Different people whom I talked about the incident are giving different versions. Truth would come out in the probe," he said.  "This (opposition allegation against me) comes out of their 'sanskar' (tradition) which berates merit of a dalit...But they are wrong in assessing talent of an SC," he said.
To a question about his "refusal of medical assistance" offered by the Centre as highlighted by Union minister Ravishankar Prasad, Manjhi said that Union Home minister Rajnath Singh had told him to let him know about any assistance the state needed.
"We had sound arrangements for stampede victims at PMCH where two doctors were looking after each injured. There was no requirement of any medical assistance from outside so why should (I) ask for Centre's medical assistance?" he said.  
On Union Minister and LJP President Ramvilas Paswan trashing the probe ordered by him by Principal Secretary Home Amir Subhani and Additional Director General of Police (Headquarters) Gupteshwar Pandey who claimed no follow up action had ever been initiated on such reports, Manjhi promised it would not be the case this time.  "I do not know about past. But this time action will be initiated based on report of probe into stampede," he said.
Manjhi, who was chief guest at the 'Ravana vadh' (killing of demon king) at Gandhi maidan yesterday, had left the venue around an hour earlier when stampede took place around 7 pm yesterday.
He had gone to his village in Gaya district after Gandhi maidan function and returned to the state capital after coming to know of the tragedy.
On opposition allegation of lack of action against him after the tragedy, he said it was not true.  "I held meeting with senior officials including Chief Secretary, state police chief and Principal Secretary Home at my residence after coming to Patna. Thereafter I went to PMCH to see arrangements for the injured," he said.