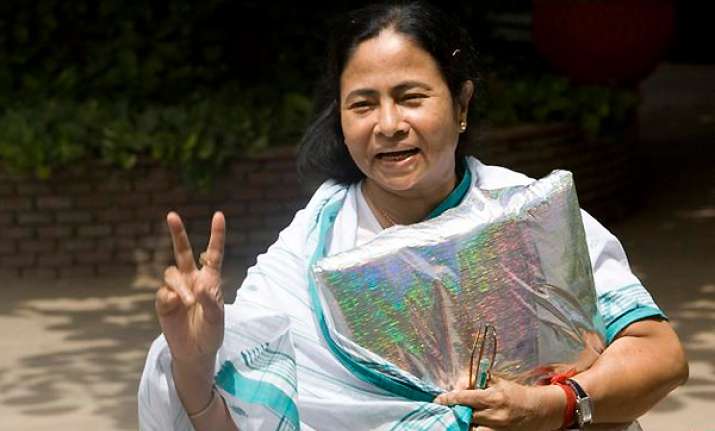 Kolkata, Jan 22: Chronicling her meteoric rise from a grassroots worker to the highest echelons of power in West Bengal, chief minister Mamata Banerjee has written a book which has a photographic description of all the important landmarks of her remarkable political career.

Titled 'Poribortan' (Change), the book written in Bengali has a hundred photographs personally selected by the chief minister with explanations about how those moments of her life dramatically changed the course of West Bengal politics and broke the 34-year-old citadel of the Left Front government.

The photos, sourced from archives of newspapers, depict various stages of her career after she jumped into limelight and became an MP by defeating veteran Communist leader Somnath Chatterjee in the 1984 elections.

Brought out by Dey's Publishing, this is one of the three books authored by her which will be released on Tuesday at the inauguration of the Kolkata Book Fair.

The second book, titled 'My Unforgettable Memories', has English translations of her previously published works in Bengali, while the last one is a book of poems penned by her.

A close aide of the Trinamool Congress leader told PTI that the book is a memoir written to recollect what has happened in her life so far after the success in bringing a political change to West Bengal.

"It is an event-by-event record of her political career.  It shows how her decades-old fight culminated into victory as she won the elections last year," the source said.

Taking readers on an extraordinary journey with its highs and lows, the book contains a rare photograph clicked in 1992 that shows her sounding a huge prop of a bell to symbolise the Left Front government's "death knell" in a rally at the Brigade Parade grounds.

Another precious moment was when the then Prime Minister Atal Bihari Vajpayee visited Mamata's Kalighat residence in 2000 and touched her mother's feet in full public view.

The book also carries a poignant visual of former CPI(M) activist Lalu Alam trying to beat Banerjee with a lathi in his hand. In the attack on August 16, 1990 during a Congress rally at Hazra crossing in south Kolkata, she had received severe head injuries.

Another photograph shows how brutally the firebrand leader was heckled and evicted from the state secretariat at Writers' Buildings by the police for protesting in front of then chief minister Jyoti Basu's office in 1993.

Later on in 2007, Didi, as she in fondly known, is shown sitting at a retired Basu's Salt Lake residence discussing the impasse over land acquisition issue in Singur.

Besides this, the 57-year-old had also clicked pictures with two other former state chief ministers—Prafulla Chandra Sen and Siddhartha Shankar Ray. Both were from the Congress.

The photobook also records Banerjee's meetings with former Prime Ministers Indira Gandhi, Rajiv Gandhi, Congress president Sonia Gandhi, deceased Congress leader Madhavrao Scindia, President Pratibha Patil and Union Finance Minister Pranab Mukherjee on various occasions.