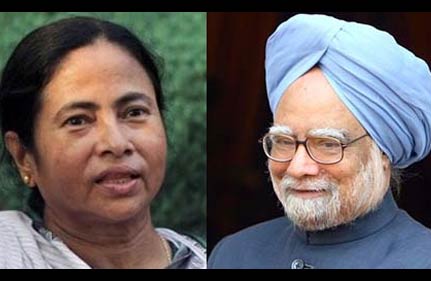 New Delhi, Nov 18 (PTI) Trinamool Congress chief Mamata Banerjee today met Prime Minister Manmohan Singh here and is understood to have reaffirmed support to the Congress in the wake of the corruption scandals, an issue on which opposition has paralysed Parliament.
Banerjee, who met the Prime Minister around noon in the Parliament House, described her short meeting as "a courtesy call".
Trinamool Congress has 20 MPs in the Lok Sabha and is the largest ally of Congress in the UPA.
Banerjee's meeting with the prime minister came against the backdrop of the Opposition seeking clarifications from him regarding reported statements by former Telecom Minister A Raja that PMO was informed of every step his Ministry had taken in regard to the controversial 2G spectrum allocation.
The issue of joint security operations in West Bengal was also understood to have been raised by the Railway Minister at the meeting.