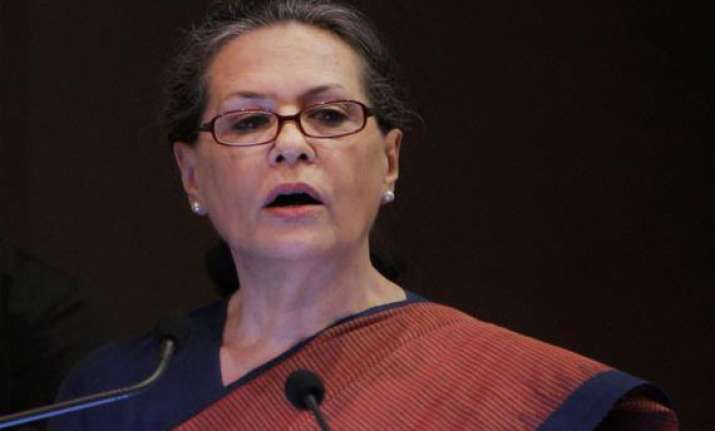 New Delhi: Stating that India's goal must be to banish hunger, Congress president Sonia Gandhi Monday urged parliament to take a "historic step" by legislating a bill which seeks to ensure subsidized food to the millions of poor and needy.
"The food bill is meant for the less fortunate sections of our society," she said while taking part in an animated discussion in the Lok Sabha. "It is a historic step to eradicate hunger."
"It is time to send out a big message that India can take the responsibility of ensuring food security for all its citizens," she added, to loud thumping of desks by members of the Congress-led UPA.
"It's time to take the historic step," Gandhi said of the bill, her pet welfare legislation and which many feel may prove to be a game-changer in the next Lok Sabha election.
"It is my fervent appeal that we shall pass this unanimously."
As the house listened to her in silence, Gandhi explained the significance of the legislation.
"Our foreseeable future must be to wipe out hunger and malnutrition from our country.
"This legislation is only a beginning. As we move forward, we will be open to constructive suggestion, we will learn from experiences, have an opportunity to transform the lives of millions of people.
"I believe we all must rise to the occasion, set aside our differences and affirm our commitment to (people's) welfare and well being.
"It's my fervent and humble appeal... to convert this bill into an act and do so unanimously."
The bill proposes subsidized foodgrain for up to 75 percent of the rural and up to 50 percent of the urban population. It proposes meal entitlement to specific groups.
Eligible households would get five kg of foodgrain per person every month -- Rs.3 a kilo for rice, Rs.2 a kilo for wheat and Rs.1 a kilo for coarse grains.
Gandhi brushed aside criticism about the legislation, saying the question was not of whether "we have the means" but that "we will have to find the means" to implement it.
"We have to do it," she said emphatically, triggering another round of applause.
Referring to various measures taken by the United Progressive Alliance government since 2005 to empower people, she said the food security bill was the fifth in a series of legal entitlement.
"This approach ... is bringing about empowerment revolution in the country. We are proud to have facilitated it."
The Congress president noted that the farm sector and farmers were at the heart of her Congress-led government's policies.
She said shortcomings in the public distribution system (PDS) would have to be addressed. "The PDS needs reform."