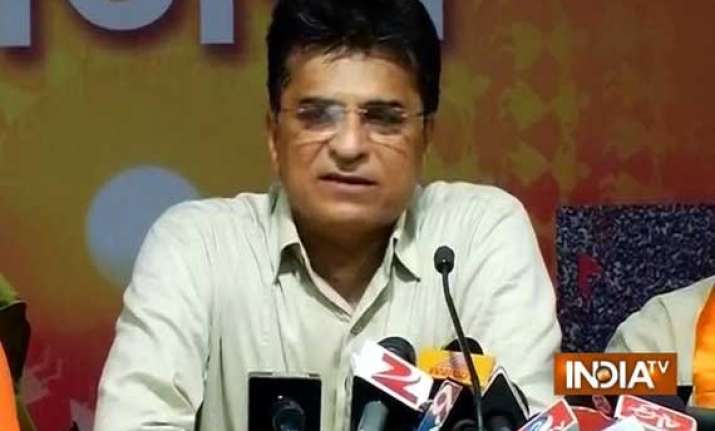 Mumbai/New Delhi: The BJP today said that the party will provide Maharashtra with a mini-Modi government.
Addressing a press conference, senior party leader Kirit Somaiya thanked the people of Maharashtra for showing faith in BJP leadership and said that it is for the first time that the party has hit a centure in state assembly.
Somaiya firther said that once the full results are out by the afternoon, the state and central leadership of the party will join heads together to decide the future course of action.
BJP has emerged as the single largest party in Maharashtra assembly although it has fell well short of a clear majority on its own. The party has said that it will send an invitation to the Shiv Sena to join the government by this evening.
BJP state president Devendra Fadnavis has said that the BJP will form the government in the state for sure.
Speaking to reporters, Fadnavis  said that the final strategy for government formation will be decided by the parliamentary board of the party.
Reacting to election results, Shiv Sena leader Manohar Joshi said that the results are on the expected lines. He said that the party will discuss the BJP proposal for government decision and will take appropriate decision.
Meanwhile, Union Minister Nitin Gadkari has ruled out his candidature for chief ministership in Maharashtra.
Talking to media at his New Delhi residence, Gadkari said that he is happy working in Delhi and that he has no intention of going back to Maharashtra.
While thanking the people of Maharashtra for showing faith in the BJP, Gadkari said that the final decision on government formation will be taken by the party's Parliamentary Board that is slates to meet at 6 pm in the evening.
On the other hand, senior BJP leader Om Mathur has said that now the BJP has emerged as the 'big brother' in Maharashtra and therefore there is no need for the party to make any call to the Shiv Sena.