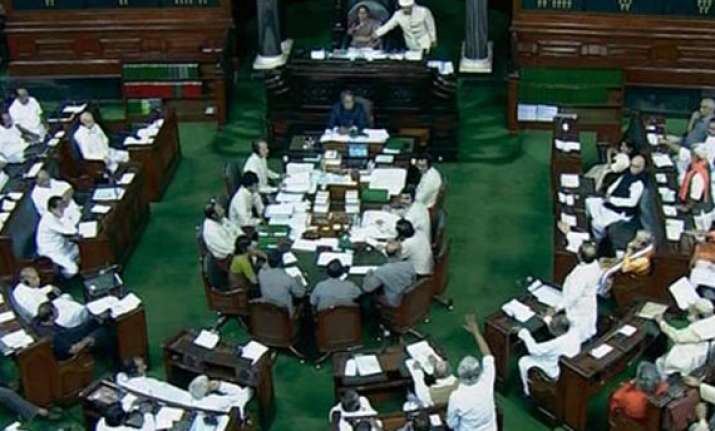 New Delhi: The Lok Sabha was repeatedly disrupted Thursday following protests by members demanding a statement from Prime Minister Manmohan Singh on the depreciation of rupee against the dollar.
As soon as the house met at 11, the members noisily demanded that the prime minister apprise the house about the measures taken by the government to check the rupee's steady fall.
Raising the issue during question hour, BJP leader Sushma Swaraj said Finance Minister P. Chidambaram had spoken to the house Tuesday.
"But instead of checking the fall in the value of the rupee, the opposite has happened.
"We need a statement from the prime minister, who is himself a great economist, on the depreciation of the rupee," she said.
Sushma Swaraj said the prime minister had earlier said that the economy was suffering due to divisions in the polity but the fact of the matter is that there were differences within the government.
Samajwadi Party chief Mulayam Singh Yadav blamed the government policies for the economic problems.
"Why is the value of the rupee declining? Why can't the status quo be maintained?" he said. He demanded a statement by the prime minister.
Trinamool Congress MP Saugata Roy said: "The drastic fall in the value of the rupee is causing concern."
Janata Dal-United's Sharad Yadav said India was facing a grave economic crisis due to the depreciation of the rupee.
CPI-M member Basudeb Acharia also demanded a statement from the prime minister.
"There is a crisis in the economic situation because of the neo-liberal economic policies the government."
Parliamentary Affairs Minister Kamal Nath assured the house that the prime minister will make a statement in the Lok Sabha Friday.
But the opposition insisted that Manmohan Singh should speak Thursday itself. This led to a ruckus and Speaker Meira Kumar adjourned the house till 12 noon.
Similar scenes were witnessed when the house reassembled at 12 noon. Kamal Nath argued that the prime minister "has to prepare and study before making a statement".
Amid the din, Rural Development Minister Jairam Ramesh moved the motion for the Land Acquisition Bill for debate.
But as the Left and AIADMK members trooped towards the speaker raising slogans, the house was again adjourned first till 12.30 p.m. and then till 2 p.m.