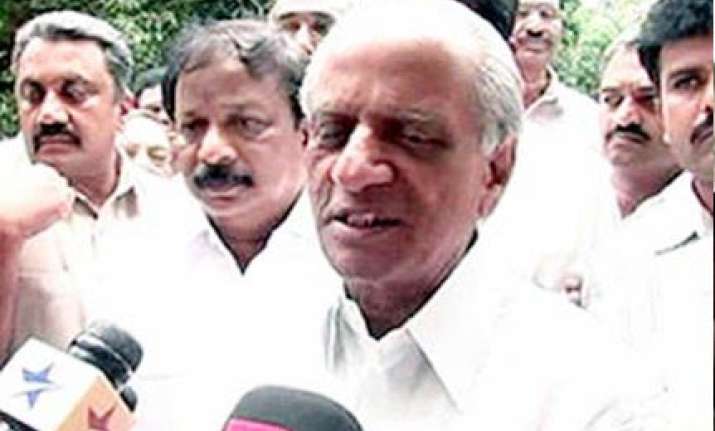 Bangalore, Nov 23: Lingayat leaders in Karnataka unit of Congress led by former Deputy Chief Minister M P Prakash today took a swipe at Chief Minister B S Yeddyruappa's attempt to drum up support of religious heads of the community, which they called an "unpardonable crime" and a "bad tradition".
The leaders, talking to reporters a day after three little known swamijis of their community lobbied for Yeddyurappa's continuation, said "using caste as a weapon by any leader to further his political interests is a bad tradition in democracy".
Prakash rejected suggestions being mooted by some that the entire Lingayat community is rallying behind Yeddyurappa.
"Lingayats are there in all political outfits. The community did not support en masse only the BJP. It also supported other political parties", Prakash said in the company of former minister Rani Satish, former chairman of the legisaltive Council Veeranna Matti Katti and others.
"Chief Minister Yeddyurappa, who is immersed in acts of corruption and nepotism and gave a weak government to the people has no right to continue in office and he should go", they demanded.
"Veerashaiva faith is only a dharma, a way of life and not a caste. Using it as tool and labelling it as a caste and threaten that ouster of Yeddyurappa would draw away Lingayat community from BJP are nothing but moral bankruptacy by BJP leaders", Prakash said.
Yeddyurappa, who belongs to Lingayat community, is trying to defend his 'misdeeds' using his caste, he said, adding, "I sympathise with him".
Expressing his displeasure over the affairs of his own party, Prakash said as the party ignored the majority community Lingyat, it is in the ranks of opposition now.
On swamijis coming in defence of Yeddyurappa, Prakash said "those who were benefitted from Yeddyurappa have been coming out in support and not all the swamijis". PTI