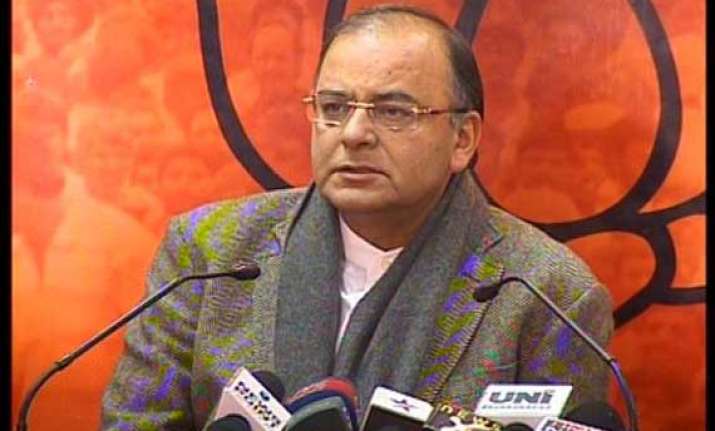 New Delhi : The controversy over denial of Lok Sabha ticket to Jaswant Singh continued to dog the BJP Sunday, with Arun Jaitley saying the party's decision should be accepted with a smile. The BJP's opponents targeted prime ministerial candidate Narendra Modi over the controversy.
In an article on his website, Jaitley differed with Jaswant Singh for protesting over denial of ticket to him from Rajasthan's Barmer, saying the Bharatiya Janata Party's decision should be accepted with a smile as a test of loyalty and discipline.
Jaitley's comments, however, were in contrast to those of party leader Sushma Swaraj, who had said Saturday that she was personally hurt by the denial of ticket to Jaswant Singh.
Jaitley, the BJP candidate from Amritsar, said restraint and silence were always a preferred option to a member whose wish could not be accommodated by the party.
Without naming Jaswant Singh, Jaitley said an overreaction may prove be a transient storm in a tea cup.
"Silence is always dignified and more gracious," he said.
Jaswant Singh, a former union minister, is said to be preparing to file his nomination papers from Barmer Monday, perhaps as an Independent.
Jaitley said many political leaders desirous of being candidates succeed in getting a nomination while many more get left out in an election season.
"What does a politician do when after a successful political career the party is unable to accommodate him once? That is when his discipline and political loyalty are to be tested," said the leader of opposition in the Rajya Sabha.
He said membership of a political party was a privilege and also an act of self-oppression where personal views and ambitions were to be subjected to the collective wisdom of the party.
"At times, the party may flood leaders with privileges and positions. On other occasions, the leader may have to take 'no' as an answer to his desires. How does a politician or a leader react to such 'no'? He must accept the decision with a smile. This becomes a test of his loyalty and discipline," he said.
Meanwhile, Jaswant Singh told IANS Sunday that there will be "repercussions" because of the many differences that have come to the fore in the BJP, and rejected suggestions by party chief Rajnath Singh that the BJP will use his capabilities fully.
"I am not an adjustable commodity," Jaswant Singh told a news channel.
Congress leader and union minister Kapil Sibal took a dig at Modi over controversies surrounding ticket distribution in the BJP, saying the party "has been taken over by Narendra Modi".
Jammu and Kashmir Chief Minister Omar Abdullah said "gentlemen" like Jaswant Singh had been "shown the door".
"For all the chatter that RG (Rahul Gandhi) can't work with the old guard of the Congress, it's actually NaMo who has culled the senior leadership of the BJP," Abdullah said in a tweet.
"Earlier there was the Advani Vajpayee duo, possibly even with Joshi the trio but now it's just the NaMo monopoly. I dare say there is more democracy in so called 'family run' parties like JKNC then there is in 'parties with a difference'," he said.