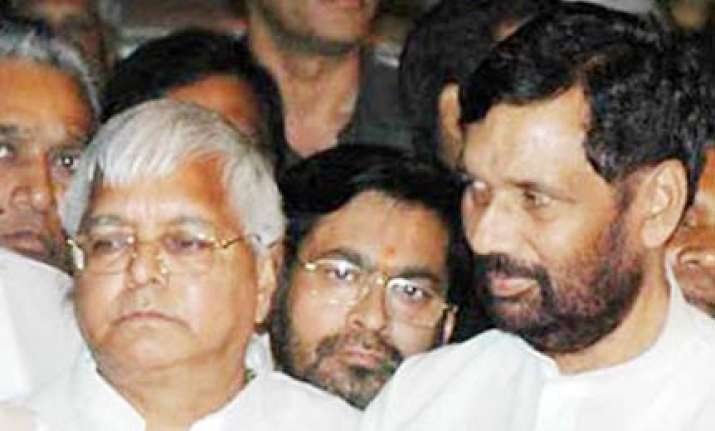 Bidupur (Bihar), Oct 15 :  RJD Chief Lalu Prasad and his LJP counterpart Ramvilas Paswan today launched a joint campaign for former Chief Minister Rabri Devi in Raghopur assembly constituency in Vaishali district.
Both Prasad and Paswan launched a vitriolic attack on the Nitish Kumar government in a joint rally describing it as "an epitome of corruption."
"Rampant corruption prevails in all fields may it be the case of MNREGA or other schemes....the babus (bureaucrats, including BDOs, COs, Inspectors, Engineers, besides contractors have virtually looted the public funds during the past five years and made investments in real estate," they alleged.
Paswan alleged that the loot of the state exchequer during the Nitish regime had been reported by the CAG (Comptroller and Auditor General of India) in its report and only during the last two years which highlighted misappropriation and illegal withdrawals of funds worth over Rs 11,000 crore.
"While bank accounts of the corrupt officials and contractors have fattened, the poor people have starved during the past five years," they alleged and promised that they would order a thorough probe in the event of win.
Accusing Chief Minister Nitish Kumar of "dividing" dalits in the name of Mahadalits, he said the present regime had "badly cheated and hoodwinked" the dalits in Bihar.
"Where are TVs and transistors, besides 3 decimal land Kumar announced to make available to them...those who have received the benefits they should vote for the alliance and those who have should vote for the RJD-LJP alliance for receiving their due," Paswan said amid thunderous applause from people in the constituency, a part of his pocket borough Hajipur Lok Sabha constituency.
Paswan had unsuccessfully contested the 2009 Lok Sabha polls from Hajipur where JD(U) nominee and former Chief Minister Ramsunder Das romped to victory.
Stating that the alliance between their parties would remain intact, Prasad slammed the Congress for contesting the elections from all 243 seats saying "the party is in the fray to advantage the NDA."
"We have been ditched by the Congress for which we relentlessly fought and extended out support for throwing the NDA out of power in Delhi in 2004... and it is now now ready to accept the favour we bestowed upon it by us," Prasad said.
"People know the sinister gameplan of the Congress and NDA will rally behind us for ensuring people-oriented development," the RJD leader said.
Later, Lalu's son Tejaswi Yadav joined his mother in the roadshow in her constituency. PTI