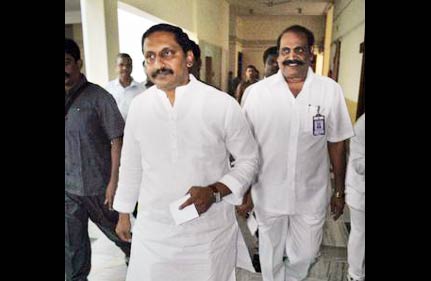 Hyderabad, Nov 25: Nallari Kiran Kumar Reddy, a YSR loyalist, was today sworn-in as Chief Minister of Andhra Pradesh, capping hectic political developments that saw the exit of K Rosaiah from the post as Congress prepared to face challenging times ahead in the state.
Governor E S L Narasimhan administered the oath of office and secrecy only to 50-year-old Kiran Kumar Reddy, hitherto Speaker, who was chosen late last night as the leader of Congress Legislature Party in place of Rosaiah.
The 77-year-old Congress veteran had made a surprise exit from the post yesterday in the midst of rebellion by late Chief Minister Y S Rajasekhara Reddy's son Jaganmohan Reddy. Jagan's media outlets had launched attacks on
Sonia Gandhi
and the party that had raised the hackles of the high command.
The move is also being seen as Congress' political management ahead of the submission of the Srikrishna panel report on the issue of Telangana by December 31.
Union Ministers and party observers M Veerappa Moily, Ghulam Nabi Azad, Rosaiah and a host of Congress leaders, MLAs and MLCs attended the brief swearing-in ceremony in the Darbar Hall of Raj Bhavan.
With Kiran Kumar Reddy, a four-time MLA, alone taking, the Council of Ministers is expected to be reconstituted after he holds consultations with the Congress high command, party sources said.
The new Chief Minister is expected to leave for New Delhi later in the day to call on AICC president Sonia Gandhi, who chose him for the job after being authorised by the CLP.
He would also meet other top leaders of the AICC in New Delhi, party sources said.
Earlier in the day, former ministers, MPs, MLAs, MLCs and several Congress leaders met Kiran Kumar at his Banjara Hills residence and congratulated him.
State Chief Secretary S V Prasad and Director General of Police K Aravinda Rao led the bureaucrats in greeting the new Chief Minister.
Rosaiah, the stop-gap Chief Minister who took over in the aftermath of YSR's death in September last year, had resigned citing personal reasons. PTI