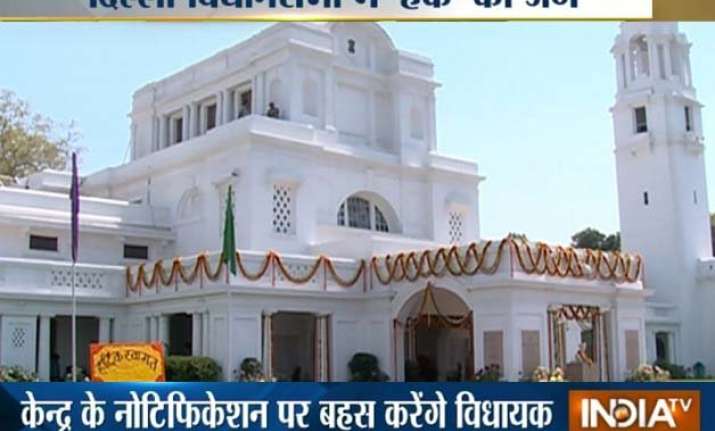 LIVE UPDATES:
*
OP Sharma, BJP MLA from Vishwas Nagar, marshaled out of Delhi Assembly
* AAP MLA Adarsh Shastri seeks amendment in Article 155 of the Constitution seeking powers for Delhi Assembly to impeach the LG
* Delhi Assembly adopts the motion to discuss the notification issued by MHA.
* Delhi Assembly orders matter of case filed against  MLA Jarnail Singh and Police Commissioner BS Bassi statement declaring him absconding, be sent to privilege committee
* Delhi Deputy CM Manish Sisodia introduces resolution on Centre's notification in the assembly.
A two-day emergency session of the Delhi Assembly began today amid the Aam Aadmi Party (AAP) government's ongoing tussle with Lieutenant Governor Najeeb Jung and the Centre over the division of powers.
The session was called after the Ministry of Home Affairs last week issued a gazette notification specifying the role and powers of the Lt Governor.
The Arvind Kejriwal government will discuss on whether to challenge the notification in court. The government will also pass a resolution against the decree.
In a notification issued last week, the Central government made it clear that Lt. Governor Najeeb Jung will have the last word in deciding transfers and postings of bureaucrats in Delhi.
The notification has brought things to a head with the Centre and the Kejriwal government being in direct confrontation.
Both the Lt. Governor and the Chief Minister had approached the President over the issue.
While some supported the Centre's move on grounds of Delhi being a Union Territory and the national capital, others supported the Delhi government and slammed the notification.
Yesterday, Kejriwal held an open Cabinet meet at Central Park in Connaught Place to mark the completion of 100 days of his government in Delhi.