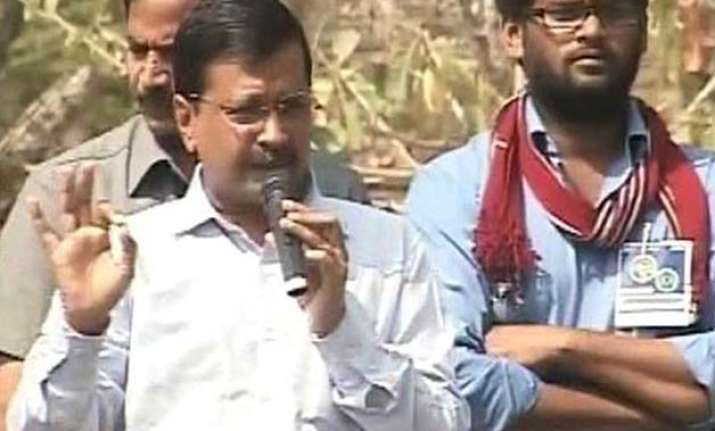 Hyderabad: Delhi Chief Minister Arvind Kejriwal today visited Hyderabad and met students protesting at Hyderabad Central University in the backdrop of the suicide of Rohith Vemula.
Terming the suicide of a Dalit research scholar at the premier institute a "national shame", Kejriwal tore into the Centre for trying to indulge in "casteist politics".
Coming out all guns blazing against HRD Minister Smriti Irani, AAP leader while addressing the agitating students here said her statement yesterday about Rohith Vemula's death as well as subsequent agitation by university's students was a clear attempt to make it a caste issue for which she must apologise.
"Rohith was a very bright student. He was Dalit but he did not come from reserved quota, he came on merit. When such bright students have to commit suicide, I think it is a shame on the entire nation and society," he said.
Demanding immediate sacking of the university's Vice Chancellor, Kejriwal said Union Minister Bandaru Dattatreya's letter to HRD Msinister Smriti Irani seeking action against Ambedkar Students Association was an example of coming to judgement before enquiring about the issue.
"It is shameful that a responsible minister without inquiring into the facts has already concluded that Ambedkar Students Association is casteist. He mentioned three words about the students -- anti-national, casteist and extremist," said Kejriwal.
He said the students were considered innocent till Dattatreya intervened.
Kejriwal said anyone who discusses Ambedkar's thoughts can never be casteist and anti-national, saying there can be "nothing more national than that".
Kejriwal accused Irani of misleading the country on theissue saying "attempts are being made to paint it as a caste issue. Irani must apologise for trying to indulge in casteist politics."
He further said "her statement was disgraceful. She spoke lies after lies. She was even trying to create confusion over his (Rohith) caste."
Irani had yesterday alleged that a malicious attempt was being made to project it as a "dalit versus non-dalit issue to ignite passions" for political gains and strongly refuted allegations of interference or putting pressure on university authority to take action against the dalit students.
Expressing solidarity with the students, Kejriwal said the whole country was with them and that whatever is needed will be done to ensure justice to them.
The Delhi Chief Minister said he offered to sit on a dharna to press for VC's sacking but the students have asked him not to do so as now the fight is to ensure justice to Vemula.
(With PTI inputs)