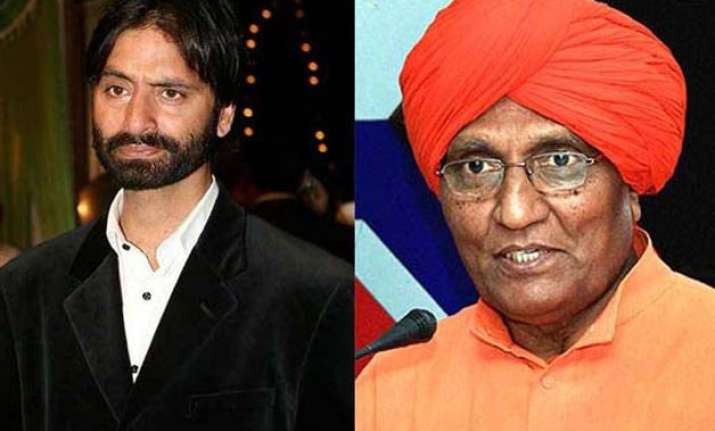 Srinagar: JKLF chairman Yaseen Malik and social activist Swami Agnivesh were today detained when they tried to lead a march towards Narbal in central Kashmir's Budgam district where a youth was killed in firing by security forces during a protest.
Police took the two into preventive custody at Maisuma as they attempted to take out a march towards Narbal, where Suhail Ahmad Sofi was killed and two others were injured when security forces opened fire at demonstrators who were protesting against the killing of two youths in an army operation in Tral area of south Kashmir earlier this week.
Agnivesh had joined Malik this morning in the 30-hour hunger strike against the proposal to create separate settlements for Kashmiri migrant Pandits.
Speaking to reporters, Malik said the people of Kashmir would not allow the "division of the people" in the name of creation of separate colonies for Kashmiri migrant Pandits.
"We will not allow these colonies at any cost. We have to live together and die together," he said.
Malik said the Pandit community should talk to the people of Kashmir rather than the government for their return.
"If Pandit brothers have any concerns, they should directly talk to us... The people of Kashmir or to the civil society here. Let them talk to us rather than the government. We want to recreate that atmosphere of peace, love and brotherhood between the communities which was here before the militancy," he said.
He condemned the killing of the youth in the firing. "We declared unilateral ceasefire and after that people of Kashmir had shown a transition from violent movement to non-violent democratic movement... If this kind of attitude continues ...Are you not pushing the boys on a militant path," he said
Agnivesh said Kashmir is known for its secular character and Kashmiriyat and the government should leave the issue of the return of the migrant Pandits to the people.
"We ask the government not to do anything. We will do it at our own level. Let all religious leaders come together and talk to the Pandit community for their return," he said.
He said the lines which divide the people in the name of religion should be erased.
"Love should be spread by connecting hearts of the people," he said.
Agnivesh asked Kashmiri Pandits to refuse living in such colonies.
"Composite and separate colonies are opposite terms. How can such colonies remain composite? We do not want a division here and Pandits should live together with their Muslim brethren. They will be trapped in these colonies," he said.
The activist said the Pandits should refuse the "fake security" and trust the security provided by their Muslim brothers.
"They cannot remain secure under the fake security provided by the gun of a policeman. Their security is their Muslim brethren," he said.
He said terrorism was the enemy of humanity and the government should not create a situation which can lead to "more terrorism".
On the "differences" between coalition partners PDP and BJP, Agnivesh said both the parties had accepted a big challenge of coming together.
"They took on a big challenge of coming together and forming a government as they are two opposite parties based on their ideology. Let us give them some time," he said.