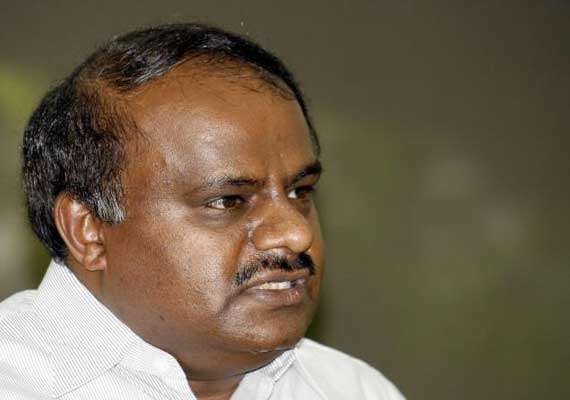 New Delhi: H.D. Kumaraswamy, the former chief minister of Karnataka and son of former prime minister H.D. Deve Gowda, has landed in trouble with a section of his party workers alleging that he demanded Rs.40 crore from a leader of the Janata Dal (Secular) to elect him as the Member of the Legislative Council (MLC).
The 35-minute audio CD, released by Vijugouda Patil Abhimanigala Balaga (Vijugouda Patil Fans' Association), is a conversation between Kumaraswamy and supporters of Vijugouda, a JD(S) functionary from Bableshwara, Bijapur district.
A Vijugouda supporter offers Kumaraswamy Rs 40 crore in exchange for a seat to the Bijapur leader. But Kumaraswamy scales it down to Rs 20 crore. "Give Rs 20 crore, I' will try to convince MLAs," he says.
At another point, Kumaraswamy is heard saying, "40 people (JDS MLAs) are asking for 40 crore...This is my fate."
In a sharp reaction, Kumaraswamy, son of former prime minister H.D. Deve Gowda, did not disown the authenticity of the conversation but said he had only discussed the direction in which the current politics was moving, reported PTI.
"It is not proper to portray me as a villain when I have only discussed in general the harsh reality of politics," he said.
It was also not proper to project as if JD-S MLAs had committed a big crime, he said in a statement. He said he was also ready for a public debate either in the Assembly or outside, Kumaraswamy said.
"Has any transaction taken place? It was only a general discussion," he told different TV channels while admitting that the discussion took place at his residence.
Kumaraswamy said he saw "some hidden hand" behind the release of the CD but had no regrets over the discussion that has landed in a major embarrassment.
BJP's Karnataka unit President Prahlad Joshi said it was a 'tragedy of democracy' that a political leader has come to such a pass.