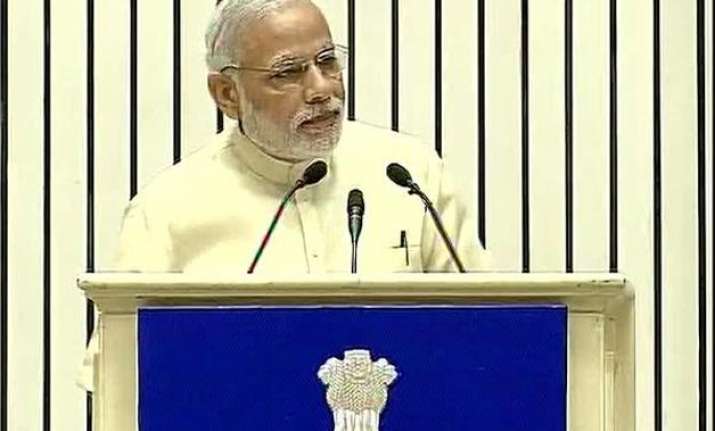 New Delhi: Prime Minister Narendra Modi today said that there is a lot of responsibility on judges as God has made them to carry out divine functions. 
He said that ordinary citizen have a lot of expectations from judges and thus "judiciary should be both powerful and perfect".
"Our judiciary should be both powerful and perfect. This is the place that is trusted by the common people," Modi said while addressing a conference of judges and Chief Ministers in the national capital. 
ALSO READ: PM Modi critical of Tribunals, asks if they are barrier for justice
Noting that the judiciary is considered "divine" and next only to the God, he advised it to have an internal mechanism for self-assessment, which he said, is a "difficult" task. 
"You have several responsibilities and the people of the nation, especially the common people have lot of expectations from you. For ordinary people judges are like access to God," Modi said.
"We (the political class) are lucky that people watch us, assess us and rip us apart. You (Judiciary) are not as lucky. If you order a person to death, he also comes out and says that he believes in the judiciary...When there is little scope for criticism, the need of the hour is to develop an internal mechanism for self-assessment where the government and the politicians have no role," Modi added.
ALSO READ: Political class is under scrutiny 24 hours: PM Modi
He said if such a mechanism is not evolved and the faith in the judiciary is affected even a little bit, it will hurt the nation.
"If the politicians or the government make a mistake, there is a scope to repair the damage by the judiciary. But if you commit a mistake, then everthing will end," he said.
The Prime Minister also advocated for creating good law institutions.
"Strengthening & freedom of institutions like Election Commission, law institutions is very important," he said.
Modi further stressed the need for Lok Adalats so that even the poorest of poor has unhindered access to justice.
"My effort is to reduce the burden of laws by eliminating all complex laws. I want to do away with all unnecessary laws that have burdened us, may be, I will get rid of 1 unwanted law every day throughout my tenure.  I will also urge the states to do the same," he said.
Talking about the pending cases, Modi said people need to think how courts functioned if there was no electricity or there were other complications.
"We all talk about the pendency of cases in courts but have we ever thought the number of hours the judiciary has to spent on them and the problems they go through," Modi asked.
On usage of technology in the judicial system, Modi said: "The quicker we get technology in this field, the easier it is to bring about a qualitative change." 
"None of the responsibilities is one sided, more we use technology in the judicial system, better it can function," he added.