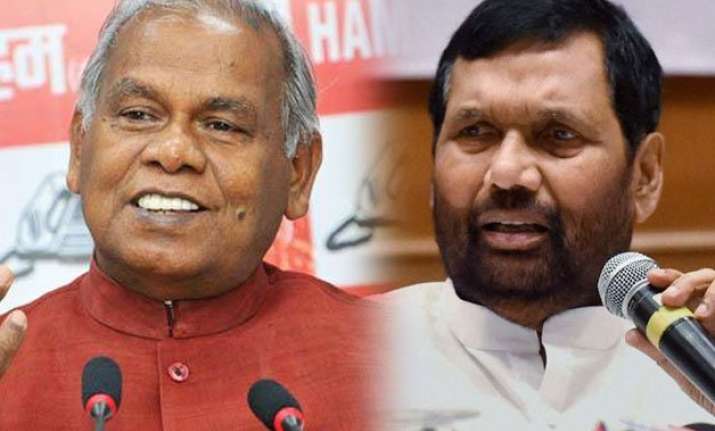 New Delhi: BJP's key ally in the Bihar Assembly polls, Jitan Ram Manjhi, came down heavily on Union Minister VK Singh for his controversial 'dog' remark.
The former Dalit Chief Minister of Bihar, while seeking Prime Minister Nrendra Modi's intervention into the matter, called Singh feudal.
Manjhi further said that Singh should apologise to the society for making such remark.
"The incident itself is a blot on humanity. Such an incident in the 21st century, to burn someone alive is a maha paap (cardinal sin). After this if someone compares it to throwing a stone at a dog, this is a maha-galti (huge mistake). He should not have said this. It shows his samant wadi (feudal) mindset," Manjhi told NDTV.
"Whatever criticism of such a man and statement is done, it is not enough. I think he should apologise to the society. The Prime Minister should look into this personally and ensure such statements are not made again," Manjhi added.
Another BJP's key ally, LJP chief and Singh's colleague, Ram Vilas Paswan, too urged him to refrain from making such statements.
"I don't descend to such low talk, have never done it with any issue," Paswan said, adding that the BJP government in Haryana is responsible for the heinous act.
Singh stoked a new controversy when he said that government can't be blamed for the incident and drew an analogy with the stoning of a dog.
"Don't connect the government with it. It was a feud between two families, the matter in under inquiry. If someone throws stones at a dog, the government is not responsible," he had said.
Two toddlers, one two-and-a-half year old Vaibhav and the other 11-month-old Divya, were burnt alive after their house was allegedly set on fire by a mob in Sunped village near Faridabad on Monday.