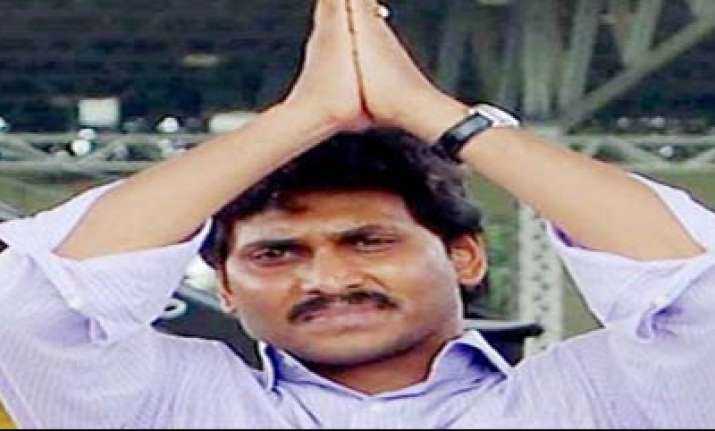 Hyderabad, Feb 19:  Former Congress MP Y S Jagan Mohan Reddy on Friday indicated that in his opinion, the actor-turned-politician Chiranjeevi would not be a competition for him.
"Nielsen ORG-marg has come out with a survey....anybody and everybody can actually see what is happening," he told reporters here, when asked how he saw the possibility of Chiranjeevi being projected as a Chief Ministerial candidate in the wake of his Praja Rajyam Party merging with Congress.
The survey, conducted prior to the merger, predicted majority for the party soon to be launched by Jagan if assembly elections were to be held.
Jagan said he would launch his party in the last week of March at the family estate at Idupulapaya in native Kadapa district. An auspicious date will be finalised to start the party, he said.
Replying to a query, he said he had no problem with anybody, including Chief Minister N Kiran Kumar Reddy, and that his concern was policies of the government.
Jagan was speaking at the Indira Park here where he was on a fast, to mount pressure on the state government to release the funds for the tuition fees reimbursement scheme of the state government, which was a pet scheme of late Y S Rajasekhara Reddy.
Addressing the gathering on the occasion, he hit out at the Kiran Kumar Reddy government for not clearing dues to the tune of Rs 3,400 crore.
The government does not have the moral right to continue in power as it is not releasing funds for a scheme that is intended to benefit about 25 lakh students, he said.
"This government does not (even) deserve to be thrown into the Bay of Bengal as sacred rivers like Ganga merge into it," he said.The dues in tuition fees reimbursement are to the tune of Rs 3,500 crore. The managements of professional colleges had threatened to shut down the colleges following failure of talks with the government. The government said it would release Rs 1,000 crore but the managements insisted on releasing at least 50 per cent of the dues.
Meanwhile, Jagan's 7-day fast -- which started on Friday --was attended by about 19 MLAs. They are: N Prasanna Kumar Reddy, Mekapati Chandrasekhar Reddy, Balanagi Reddy, Konda Surekha, Pilli Subhash Chandra Bose, Srikant Reddy,Adinarayana Reddy, Balineni Srinivasa Reddy, G Babu Rao,Ramachandra Reddy, Katasani Rami Reddy, Amarnath Reddy, K Srinivasulu, Jayasudha, K Bharati, Shobha Nagi Reddy,Kamalamma and P Ramachandra Reddy. Congress MP from Nellore Mekapati Rajamohan Reddy also attended the fast.
Jagan's earlier fast in Delhi was to highlight the alleged adverse impact of the verdict of Krishna Water Disputes Tribunal on the farmers of Andhra Pradesh; it was
attended by about 25 MLAs. PTI