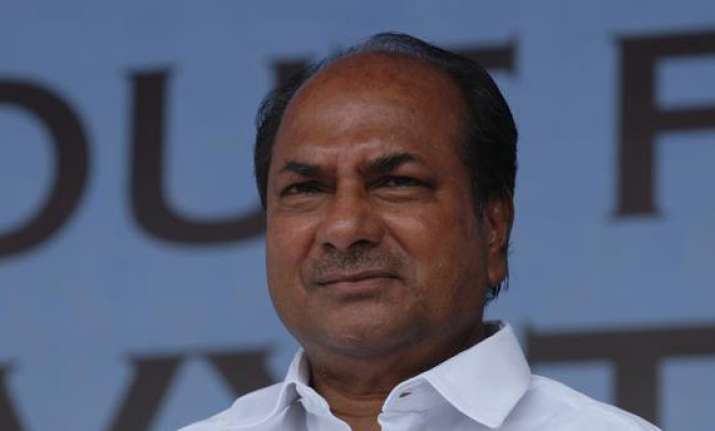 New Delhi: Against the backdrop of incursions by Chinese troops, Defence Minister A K Antony today said the India was trying to further strengthen military capabilities in the northern sector, implying the Line of Actual Control with China.
"The government is trying to further strengthen our capabilities in the northern sector. We are attaching top priority to the strengthening of infrastructure in this sector by building and upgrading border roads, strategic bridges and airfields. We are enhancing other capabilities along the land and sea borders," he said in his customary Independence Day speech. 
The minister said steps are also being taken to modernise the Army's infantry and artillery units, so that they can easily work in a seamless and net-centric environment and the country was "enhancing other capabilities along the land and sea borders". 
Observing that security situation in the sub-continent was not very encouraging, he said India has been facing threat to its sovereignty from the long sea-frontiers than from anywhere else. 
Keeping this in view, our government has taken elaborate measures to strengthen our coastal security apparatus by plugging loopholes in sea-patrolling and air defence mechanism," Antony said. 
The Defence Minister stated that a massive modernisation programme for the Navy has been sanctioned as part of which India's first indigenous aircraft carrier has just been launched in Kochi and in a few years, it will play a major role in enhancing the Navy's blue water capability.  
Antony said the Coast Guard was also being modernised as part of the measures to strengthen maritime security. 
He urged the DRDO to enhance self-reliance in defence hardware sector saying that "an independent and self- respecting country like ours cannot afford to remain dependent on imports for meeting the needs of its weapon systems and equipment. 
"The development of indigenous systems through sustained research and development is essential to enjoy freedom from external controls and embargoes." 
Antony offered his condolences to families of personnel who have laid down their lives for the security of the nation and in the line of duty while being involved in rescue and relief operations. 
"Our armed forces personnel did a splendid job by undertaking non-stop rescue and relief operations and saved several precious lives. The entire nation is proud of you and salutes you for doing this valiant job, even at the cost of losing some brave hearts," he said. 
He expressed confidence in the capabilities of the Army in dealing with the challenge of terrorism. 
Antony said the government has taken several steps for the welfare of the jawans and ex-servicemen including the Married Accommodation Project under which around 2 lakh houses have to be built and the Ex-servicemen Contributory Health Scheme.