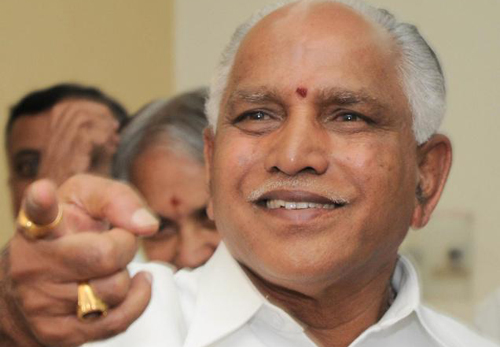 BANGALORE: Amidst indications that his party might consider replacing him, beleaguered Karnataka chief minister B S Yeddyurappa on Sunday appeared to strike a defiant note saying he has the support of 120 MLAs and that there was no successor for him.
"In the evening, I will go to Delhi to meet our party members and give all details about Karnataka affairs. 110-120 MLAs are with me, not 10 or 20 or 40 people. Nobody is going to Delhi, just myself," he told reporters here.
Yeddyurappa, who is facing land scam charges, made the remarks after holding confabulations with his loyalists, including some ministers, at his official residence where they pledged their support to him and urged him to oppose any move to replace him.
"I will go to Delhi. I will meet (Arun) Jaitley, I will meet Sushma (Swaraj). I will meet (L K) Advani. It is my duty as the chief minister (to do so). The only successor is B S Yeddyurappa," the chief minister said.
He said he had trust in BJP high command, which is understood to be weighing the options over keeping him in office in the wake of the charges against him.
Sources said ministers R Ashok, Katta Subramanaya Naidu, C M Udasi, Basavaraj Bommai and Govind Karjol and a few MLAs were present at the meeting.
Emerging from the meeting, Yeddyurappa said there was no need for him lead a delegation of ministers and legislators to Delhi to demonstrate his strength.
However, panchayat raj minister Jagadish Shettar, who is being projected as an alternative to Yeddyurappa in the event of his exit, and ministers and mining magnets -- Janardhana Reddy, Karunakara Reddy, B Sreeramulu -- who had led a campaign for leadership change last year, did not attend the meeting.
Continuing his diatribe against former Prime Minister and JD-S chief H D Deve Gowda and his son H D Kumaraswamy, who have been levelling charges of land scams against him and his family, Yeddyurappa said he would launch a campaign to expose the "misdeeds" of JDS.
"In the coming days, I will launch a campaign to expose the misdeeds of JD-S and educate people that there should be only two parties -- BJP and Congress in the country. I will also strive for strengthening BJP at all levels", he said.
Yeddyurappa labelled JD-S as a party of "looters" and said both the father and sons were a bane of state politics who had "harassed" several former chief ministers and leaders, including Ramakrishna Hegde, J H Patel and S R Bommai. He termed the allegations against him as "baseless" and said Kumaraswamy was indulging in "revenge politics".
According to sources, several ministers and MLAs have already booked their tickets to travel to Delhi this evening even as top BJP leaders met in the capital and decided to summon the chief minister.