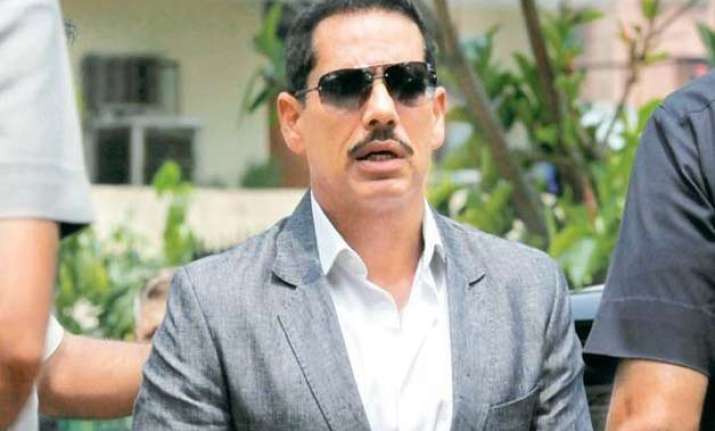 Chandigarh: The Haryana government today formed a commission to probe grant of license(s) to some entities, including Robert Vadra's company, for developing commercial colonies in Sector 83 of Gurgaon.  
Earlier, the CAG had alleged that Vadra's firm was one of the nine companies in the area which had not submitted documents on financial adequacy.
BJP had made land deals under the previous Congress regime in Haryana a major poll issue during the last year's election alleging that land rules were relaxed to favour a few including Vadra, the son-in-law of Congress president Sonia Gandhi.
The state government appointed a retired Judge of Delhi High Court, Justice S N  Dhingra, as one-man Commission of Inquiry to probe issues concerning the grant of license(s) for developing commercial colonies by the Department of Town and Country Planning, Haryana, to some entities in Sector 83, Gurgaon.
The Commission headed by Justice Dhingra would also probe subsequent transfer or disposal of the lands, allegations of private enrichment, ineligibility of beneficiaries under the rules, and other connected matters, bringing Vadra land deal under the scanner.
"The Commission will submit its report to the government as soon as possible but not later than six months from the date of its first sitting," an official spokesman said here tonight.
Notably, "undue favours" to builders, including Vadra's Skylight Hospitality, by the Haryana government during the Congress regime had come under attack from the Comptroller and Auditor General (CAG).
The CAG report, tabled in the Haryana Assembly in March, had alleged that because of Vadra, rules were also relaxed for other developers and builders, including real estate major DLF Universal Ltd.
Underlining that "the possibility of extending undue benefit to particular applicants cannot be ruled out," the report had mentioned how a commercial license was granted to Sky Light Hospitality merely after reading Vadra's name in the director's column.
The development came a day after a senior Minister in the Khattar government, Ram Bilas Sharma, had said here that it would appoint a Commission of Inquiry to be headed by a retired Supreme Court judge to probe alleged irregularities during the 10-year of the Congress rule, including controversial land deals involving Vadra.