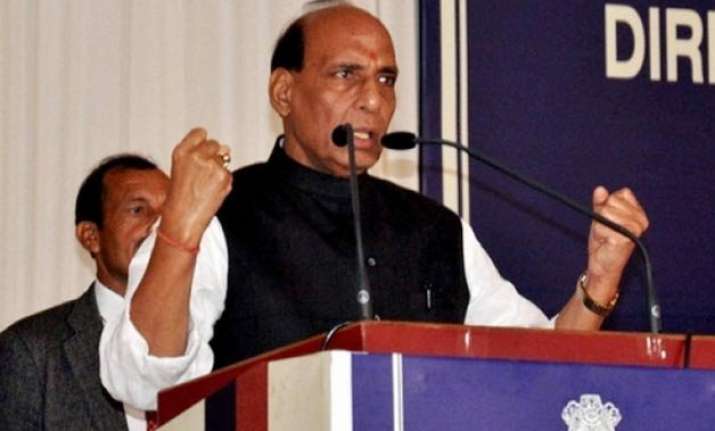 A year after they took office, 298 of 542 members of the 16th Lok Sabha–India's lower house of parliament–have not spent a rupee from the Rs 5 crore that is set aside annually for them to develop their constituencies, according to data made available to IndiaSpend.
Most ministers of the government figure in the list of members of parliament (MPs) who have not yet utilised their MP Local Area Development Scheme (MPLADS) funds, as the money made available to them is called, reveals an analysis of the data (until May 15, 2015) from the Ministry of Statistics and Programme Implementation.
Among those who have thus far ignored their MPLADS funds: Home Minister Rajnath Singh (Lucknow), Chemicals and Fertilisers Minister Ananth Kumar (Bangalore South), Law Minister D V Sadananda Gowda (Bangalore North),  Union Minister for Micro, Small and Medium Enterprises Kalraj Mishra (Deoria) and Water Resources Minister Uma Bharati (Jhansi).
Others who boast zero-spending include Congress President Sonia Gandhi (Rae Bareli), Veteran BJP leader Murli Manohar Joshi (Kanpur), Samajwadi Party Chief Mulayam Singh Yadav (Azamgarh).
Prime Minister Narendra Modi's constituency Varanasi has utilised 16% of the Rs 5 crore.
The present Lok Sabha has 281 members from the BJP and 44 from Congress, the main opposition party. With 52 MPs, Uttar Pradesh tops the list of states with zero use of MPLAD money, followed by Maharashtra and Bihar. MPs from Tamil Nadu, Kerala and West Bengal do better with most recommending works under the scheme.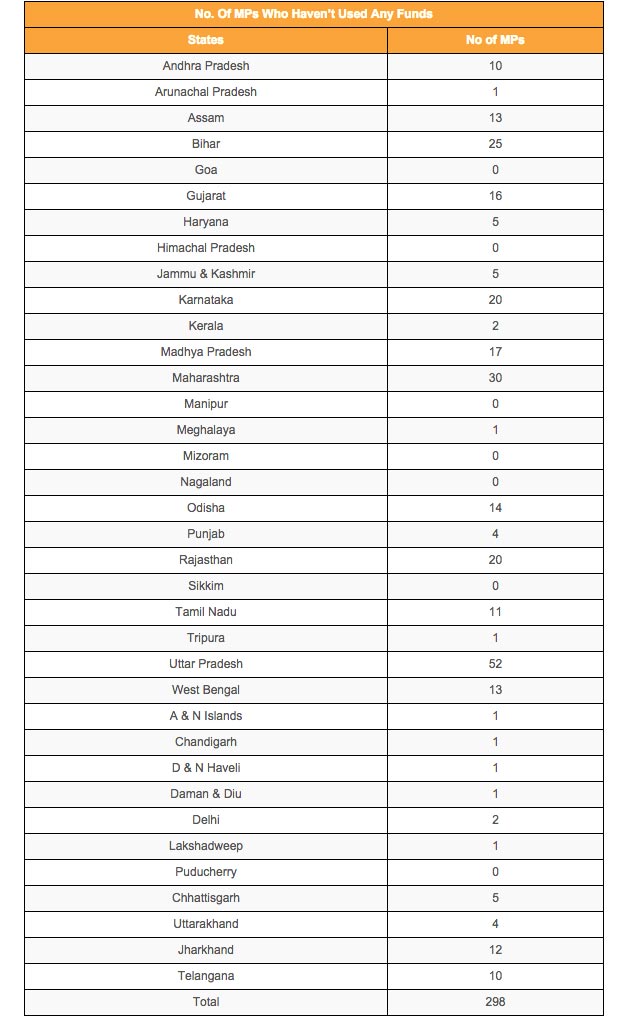 What MPs can do–Modi, Shah have suggestions
Drinking water, sanitation, electricity, roads, community shelters–these are the kind of things MPs can spend their annual Rs-5-crore fund on. Delivered in tranches of Rs 2.5 crore, the MPLADs money is meant to fund things that fall in between the administrative cracks.
If the money is not spent in one year, it can be spent during another. Funded by the union government since it began 23 years ago, MPLADS works are recommended by an MP, approved by the district collector and implemented by local authorities. The collector must ensure the work is completed within a year.
In August 2014, two months after the BJP-led National Democratic Alliance won elections with the slogan achche din (good times), Modi and Rural Development Minister Nitin Gadkari urged parliamentarians to use MPLADS funds to build toilets, in line with Modi's programme to clean India. The same month, BJP president Amit Shah called on members of both houses of parliament to set up committees that would ensure MPLADS money was put to good use.
Many ignore appeals, especially from large states
Despite these appeals, much of the MPLADS money is unspent, IndiaSpend's analysis reveals.
Since the constitution of the 16th Lok Sabha in May 2014, the government has released Rs 1,757 crore for MPLADs, of which Rs 281 crore has been utilised by 543 MPs. This means 16% of the money has been spent.
As on May 15, 2015, Rs 1,487 crore is unspent, deposited with various district authorities.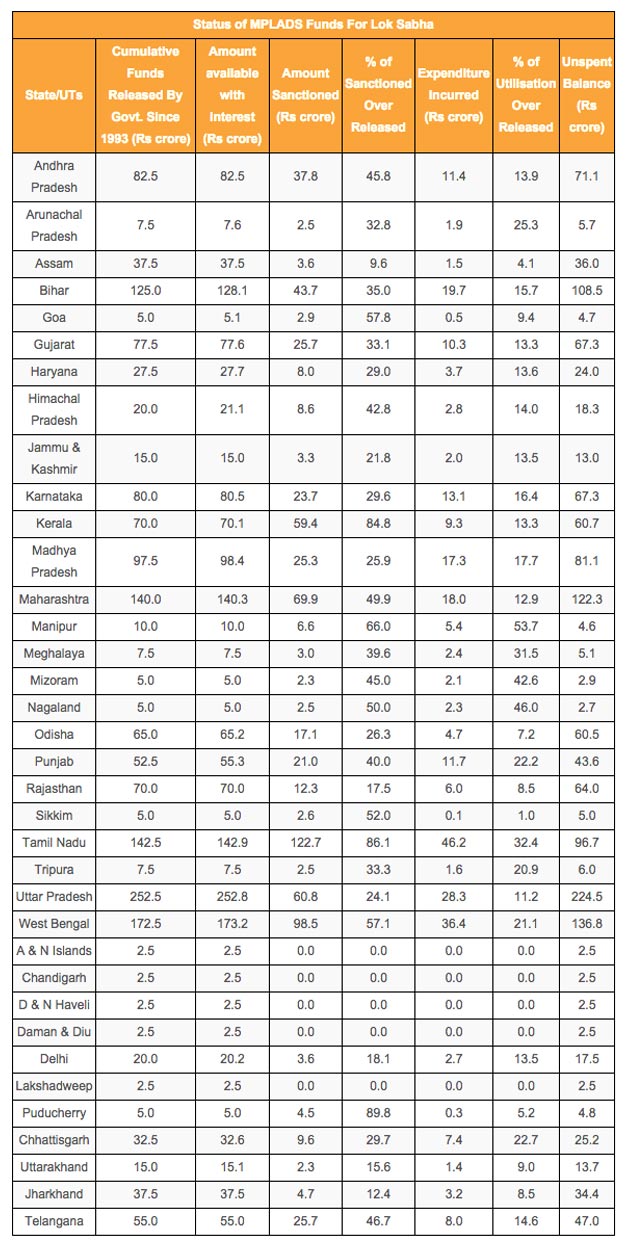 This under-utilisation of the MPLADS funds was raised by TCA Anant, Secretary for the Ministry of Statistics and Programme Implementation, in a recent meeting with state government officials in February 2015.
"There is a need to expedite utilisation of MPLADS funds, particularly that of 16th Lok Sabha members," he said.
MPs from states such as Uttar Pradesh, Odisha, Assam and Rajasthan have spent less money than the national average. MPs representing north-eastern states and Tamil Nadu have spent more than 35% of the funds.
The BJP's Dharambir Singh, who represents Bhiwani-Mahendragarh constituency in Haryana leads the pack of doers with 98% of his MPLADS money spent. MPs who have used more than 80% of funds include BJP's Kamalbhan Singh Marabi from Chattisgarh, AIADMK's Senguttuvan B and others.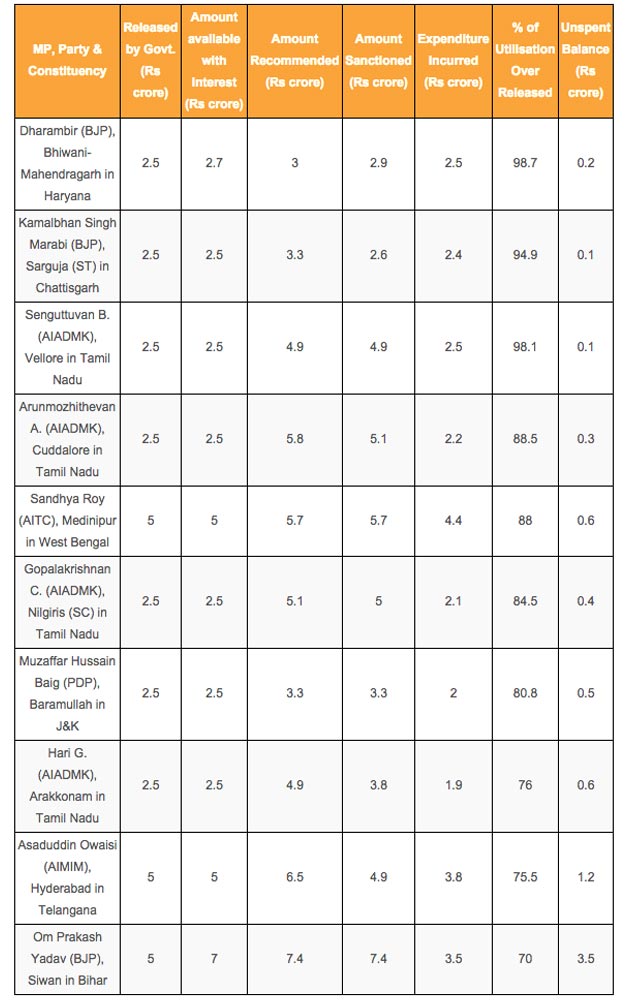 Delays, blame and Rs 5,000 crore in the bank
MPs have blamed district authorities for delays in implementing their recommendations, said the Minister of Statistics and Programme Implementation, General Vijay Kumar Singh, during the February meeting.
He asked district authorities to be "more sensitive" and "ensure expeditious implementation" with "probity and transparency" so that results were visible, according to minutes of the meeting
Referring to members of 15th Lok Sabha utilising 90% of their MPLADS funds during their five-year term between 2009 to 2014, Singh said that it is not very satisfactory for a scheme which has been in operation for more than two decades.
Since MPLADS began in 1993, Rs 5,000 crore is unspent with various district authorities.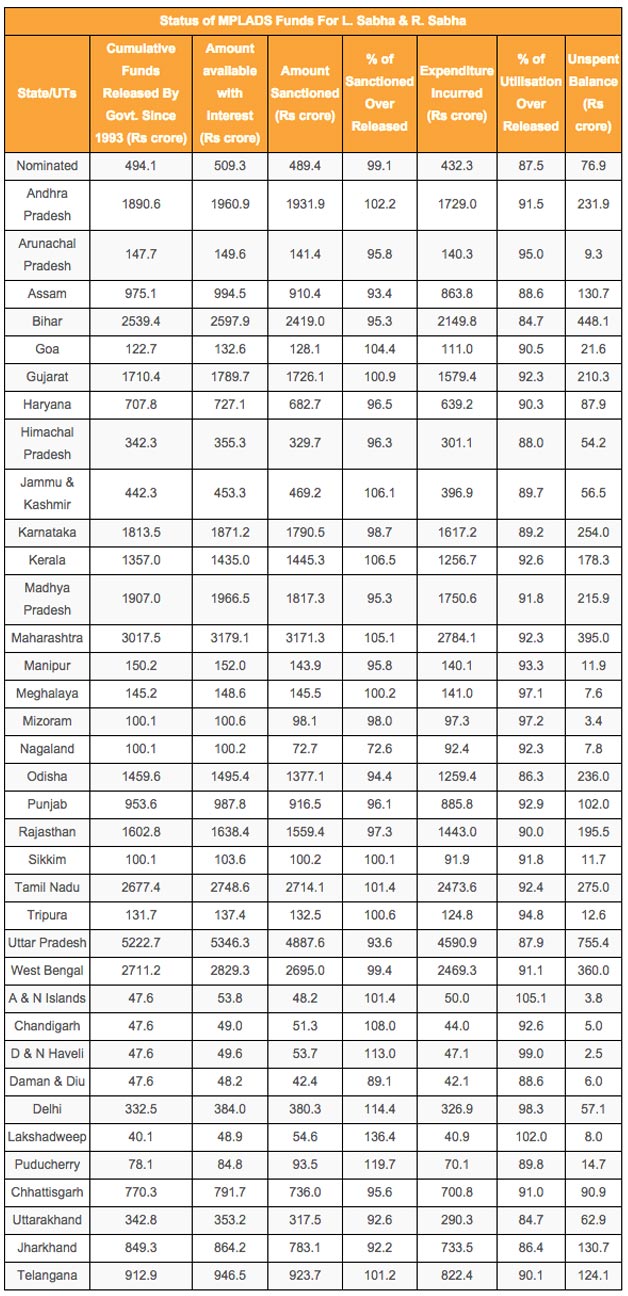 In 1993, Rs 5 lakh was given to each MP. This was raised to Rs 1 crore in 1994-95, further increased to Rs 2 crore in 1998. After a decade, in 2011, the amount was increased to Rs 5 crore.
Patil is a New Delhi-based freelance journalist. He has worked with The Economic Times, DNA and The New Indian Express.
(Indiaspend.com is a non-profit)