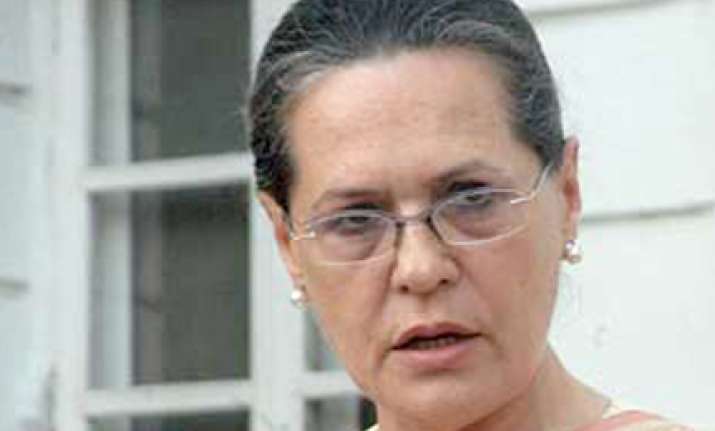 Congress President Sonia Gandhi  asked voters in Kolhapur, Maharashtra on Saturday  to defeat rival parties to ensure progress of the country. 
Addressing a public rally for the Congress-NCP candidates, she said Congress wants that the country should progress and the 'aam admi' (common man) should be empowered. 
"For the uplift of 'aam admi' we have assured to give 20 kg of food grains at subsidised rates - Rs 3 per kg, and soft loan to farmers at 3 per cent interest," she said. 
The Congress-led UPA government is also concerned over the farmers' plight and therefore the Centre has disbursed Rs 71,000 crore to waive of the farm loans, she said. 
Congress government has initiated various welfare schemes for the rural women - self help saving schemes, reservations to tribals and backward class in different sector, the UPA chairperson said. 
"Our government has also passed a legislation for the unorganised labour sector," she said. 
She also assured the sugarcane growers from western Maharashtra that the Congress-NCP government if comes to power for the third-term will resolve their problems. 
Congress party wants the fruits of democracy to reach the lowest strata of the society and it should not be confined only to political parties, she said. 
Sonia Gandhi in her 13-minute speech said that Kolhapur is a 'Shaktisthan of Goddess Mahalaxmi' and land of Rajarshi Shahu Maharaj, who gave the message of social integrity to the country. 
Kolhapur always supported Congress party, she said and asked the voters to cast their votes in favour of the Democratic Front alliance. 
Touching on the issue of terrorism, Gandhi said, "only Congress can tackle the threats of terrorism in a manner that protects the secular fabric of our country."
"...only a united and secular India can counter the menace of terrorism effectively...only Congress believes in and works for a united and secular India," she added. 
Without naming any party, Gandhi attacked the opposition saying, "there are people before you, who make tall claims in fighting communalism but do not hesitate in embracing same communal elements to grab power.
"There are people, who in the name of religion are sowing the seeds of hatred in the society, raising walls of differences in society." 
Describing the country as a "bouquet of different flowers", Gandhi said Congress is like a thread, which binds together all religions and different flowers of every state. 
Vouching that her party is committed "not to allow the spread of the venom of communalism", Gandhi said Congress has a vision and a variety of programmes for the welfare and well-being of all sections of the country's diverse society. 
She also said the party implemented the "major pledges" made in its manifesto for 2004 Lok Sabha elections. 
Claiming that it is the only party that can provide the country with good governance and inclusive growth, the editorial of Congress Sandesh said,"Congress will go into the state elections with full confidence based on our good governance in these states." PTI