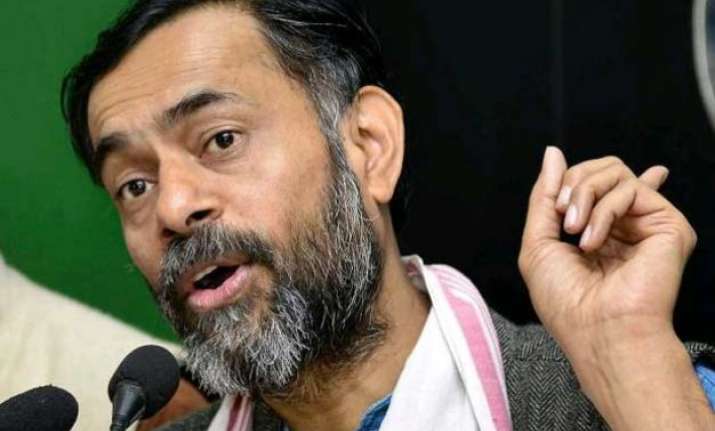 New Delhi: Sounding a reconciliatory tone even as his fate in the party hangs in the balance, senior leader Yogendra Yadav said the crisis was an "opportunity" and that he will not quit.
"The crisis that you are talking about is an opportunity for us (AAP). Everything will be clear by this evening," Yadav told reporters on reaching the venue of the meeting of AAP's National Executive, which was convened today amidst the row erupting within the party.
Yadav expressed hope that the party would have moved a "step forward and not backward" at the end of the meeting.  Deputy Chief Minister Manish Sisodia and senior party leaders Prashant Bhushan, Kumar Vishwas, Ilyas Azmi and Sunil Arya have already reached the venue.  Meanwhile, hundreds of party supporters, who have gathered outside the meet venue, are shouting slogans demanding the leaders to stay united.
Yadav also said in a tweet, "Na todenge na chodenge, sudhrenge aur sudharenge" (will neither split nor quit, will improve and bring improvement).
The AAP National Executive is meeting here today to decide the fate of Yadav and Prashant Bhushan even as attempts are being made for a reconciliation.
Earlier, Ashish Khetan, a key member of AAP's Delhi unit, which is demanding stern action against Yadav and Bhushan, softened his stand after having lashed out at the duo in tweets yesterday.
"I should not have commented about Bhushans in public.  We've fought for many public causes together and will hopefully continue to work as a team. Have deleted my tweets.
I am accountable to every last volunteer & will forever work to strengthen the party," Khetan said in tweets today