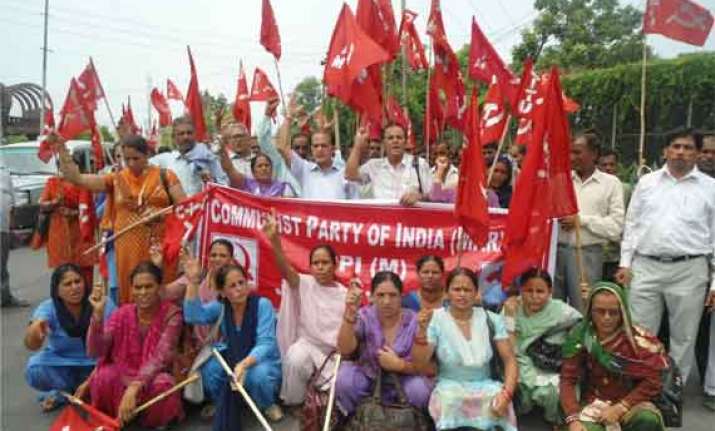 Jammu: Leaders of CPI(M) and its trade union wing CITU today held protest here and alleged that the NDA government at the Centre was "fast moving" towards privatisation of the country's economy by seeking PPP mode and FDI in core sectors of the economy.
They criticised the Rail budget and the General Budget saying it has vindicated their stand that "the government is fast moving towards privatisation of our economy by seeking PPP mode and Foreign Direct Investment in core sectors of the economy which is bound to add to the miseries of the common people."
Led by Sham Prasad Kesar, Regional Secretary CPI(M), Jammu, the activists of the Communist Party of India(M), held a protest demonstration at Press Club here against the "continuous price rise".
"To the dismay of the common people, the new government, led by Narendra Modi seems to have failed to translate the promises into reality," Kesar said.
Addressing the demonstration, Sham termed the Union Budget as "regressive and anti-people" which is bound to have adverse repercussions for the common masses.  
He said that Finance minister has pushed corporate neo-liberal reforms to the next level by pushing for greater FDI in Insurance and defence and promoting PPP and corporate social responsibility in almost every major welfare sector.  
Om Prakash, General Secretary, CITU, condemned the Budget for "cutting down the budgetary support for social security measures".