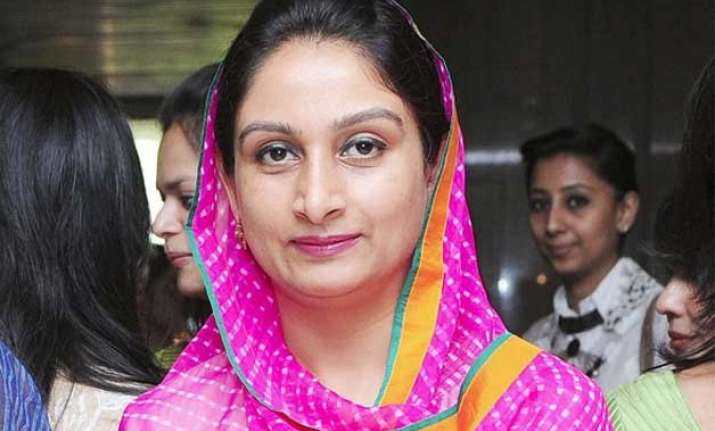 Bathinda: Terming the farmers' rally of Congress on the Land Acquisition Bill as a "flop show and mere drama", Union Minister for Food Processing Industry Harsimrat Kaur Badal today said that the Congress was misleading farmers of the country.
"The Land Acquisition Bill is farmer friendly bill that safeguards the interest of farmers. Sadly enough the Congress leader Rahul Gandhi, who is back after two months vacationing, has run out of issues and hence is heading this issueless campaign," said Harsimrat.
The Union Minister said that the Congress had lost moral rights to question the Land Acquisition Bill when it has remained mute spectator to Robert Vadra's (son-in-law of Congress chairperson Sonia Gandhi) "trick" wherein his Rs one lakh company owned crores of land of poor farmers.  
"First Congress should ensure that the poor farmers' land is given back to them from Vadra," she said.  The Union Minister said that Punjab has best Land Acquisition Policy under which farmers are paid 30 to 40 per cent more than the current market price.  
This is the prime reason behind land acquisition going smoothly in the state for the past 10 years and Centre should replicate the same policy elsewhere pan India, she said.  
She said that the Congress has been deeply involved in its nefarious designs against the country's farmer when it introduced the Land Acquisition Bill just a month before 2014 general elections leaving no time for the Parliament to decide it.
"The Narendra Modi led NDA government has rectified Congress proposed bill and made it farmer friendly. Congress does not want the farming community to prosper, the way it has done in the 60 years of its rule over India," she said.  
She said that instead the Modi government has now provided biggest ever relief to farmers by raising the limit for crop damage, to claim compensation, by 50 per cent against the 33 per cent government earlier gave.
She said that due to unseasonal rains a large number of states have faced damaged crops.
Despite the high moisture content and other problems, the Centre has assured farmers that their crops would be procured and they would not face any kind of problem.