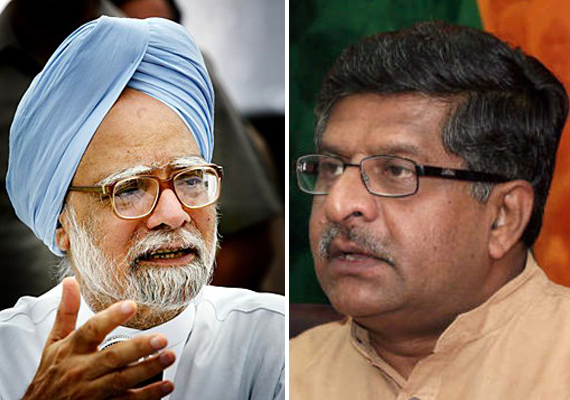 New Delhi, Aug 21: BJP today defended its decision to demand Prime Minister Manmohan Singh's resignation in the alleged irregularities in coal blocs allocation, saying it owes it to the people in the wake of "regular occurence" of scams and insisted it will continue to press for his removal.
"In both Houses of Parliament today, we demanded Prime Minister Manmohan Singh's resignation. We will continue to strongly press for it as the coal allocation issue is not an isolated incident. The 2G spectrum issue, Commonwealth Games scam, public-private partnership issue of airports and now the coal blocks," Deputy Leader of BJP in Rajya Sabha
Ravi Shankar Prasad
told reporters.
He alleged these cases demonstrate that the Manmohan Singh government is one of "scam, shame, scandals, corruption and loot and that BJP is levelling these charges with all responsibility.
Claims by Congress of having taken action against corruption are "absolutely hollow", BJP charged.
The party maintained that it was due to opposition pressure, media campaign and intervention of the judiciary that action was taken.
On coal allocation issue, BJP said Singh had held the Coal portfolio for five years since UPA came to power in 2004 and is hence responsible for the loss of revenue of Rs 1.86 lakh crore estimated by CAG.
He indicated BJP will continue to press for Singh's resignation in Parliament in the coming days.
"If scams keep happening with such regularity, we owe it to the people to demand the Prime Minister's resignation," Prasad said.